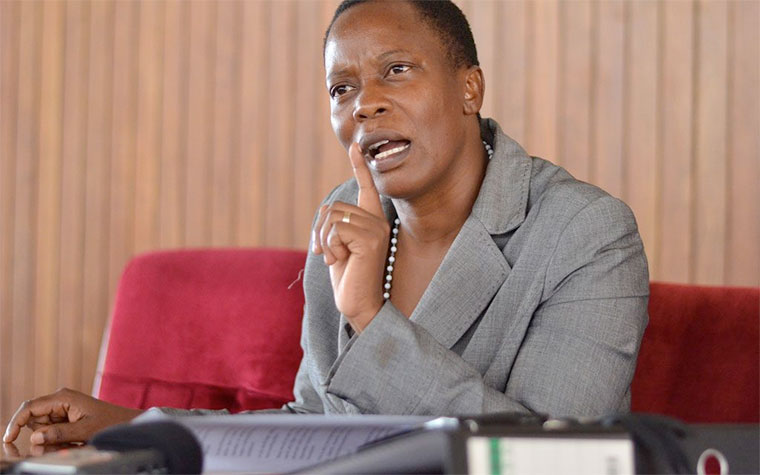 The self-styled president of "Bad DP", a Democratic Party (DP) faction, Betty Nambooze has reacted to party president Norbert Mao's declaration her planned Buganda Conference as illegal.
Nambooze, the party vice president for Buganda, had invited Mao for a DP Buganda conference slated for March 30 at Nsambya Sharing Hall to discuss ways of reforming the party that is now divided along the "Bad DP" and "Good DP" factions.
The "good DP" term was coined by President Yoweri Museveni in reference to Uganda's representative to regional parliament East African Legislative Assembly (EALA) Mukasa Mbidde at an event to mark the ruling National Resistance Movement (NRM) party Liberation Day in Masindi district on January 26.
But Mao would later respond through DP deputy publicist Alex Waiswa Mufumbira declaring the planned conference illegal.
Nambooze has reacted to Mao's claims. She told reporters at Nsambya: "Ultimately, as in the spirit of his letter and that of several undocumented discourses engineered by him [Mao] and Hon Fred Mukasa Mbidde, it has been made no secret that I am up for expulsion from the Democratic Party.  These two accuse me of the offence of holding a conference within my jurisdiction and are hell bent [on rudely ejecting] me from the party as a penalty.
"This is not a struggle for the faint hearted. I don't mind being suspended from the party as it doesn't change facts, it doesn't change need for change by Ugandans."
She accused Mao and his "Good DP" folks of plotting to wreck the party and cross over to Museveni's NRM.
"At the moment, DP as a party is a ship in the hands of pirates led by Mr. Mao and Mr. Mukasa Mbidde who are steering it on a wrong course. They are determined to wreck it and then jump ship to the safety of other boats on the stormy sea.
"More than ever, there has arisen a need for the party to strengthen its structures, redefine its ideology and identify and offer workable resolutions the problems Ugandans are faced with if we are to ultimately take back the people's power from Museveni."
She then outlined six pillars with which she and the "Bad DP" plan to use to bring back DP on course: amending the constitution, restoring truth and justice, reconstructing party structures, rebranding, regaining public trust, and reconciliation and conflict resolution.
Comments
comments