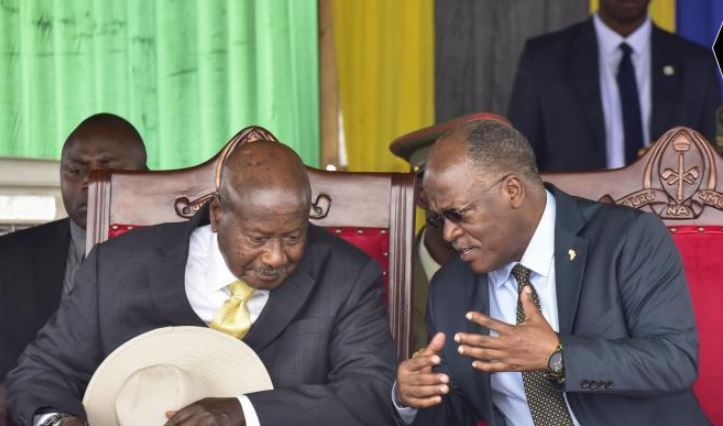 "While Christians go to Rome, Muslims to Mecca, I come to Tanzania as my pilgrimage. I am happy to be here. I have a lot of historical attachments to this place. It is like a home to me," were were the words of President Yoweri Museveni, spoken in Swahili, as he addressed residents of Chato District, Geita Region of North-western Tanzania on Saturday, where he had gone to pay a courtesy call on his host, President John Pombe Magufuli.
President Magufuli's country home is in Chato and President Museveni called on him as he returned from Luanda where he had attended a quadripartite summit involving Angola, Rwanda and DR Congo.
In Chato, speaking to excited residents, President Museveni said Tanzania was of immense historical importance to him and Uganda, explaining why any visit there is treated as a pilgrimage.
Tanzania was central in the 1979 ouster of President Idi Amin while for President Museveni, he did not just attend university there but used it as a base to organize FRONASA, the force that later morphed to the NRM/A and successfully fought the 1981-85 liberation war.
"All African states had their independence with influence and inspiration from Tanzania under the wisdom and able leadership of Mwalimu Julius Kambarage Nyerere," President Museveni told the cheering residents.
He also took time to urge residents of Chato to embrace his message of wealth creation which he has been preaching to their counterparts in Uganda.
"The challenges of today are development together with wealth creation and employment. Tanzania has a good working relationship with Uganda and we shall continue working towards eliminating these challenges," he said.
"Development is infrastructure for all of us. But wealth is for your home. If President Magufuli makes a good road, you don't come and sleep on the road to enjoy the development," he added.
"Go and engage in productive services, for instance rear cows, goats, if not Muslim then try pigs that will result into your personal wealth," said President Museveni.
On his part, President Magufuli thanked his 'brother' Museveni for the visit.
"When you called me while going to Angola and said were passing here on return, I was happy. I am very honoured that you flew a long way from Angola, passed over three countries only to land here. Thank you," he said.
"We are brothers. President Museveni has a great attachment to this place historically. Our nations also have a long history. Most recently when president Nyererere helped Uganda to overthrow Amin's regime," said the Tanzanian leader.
President Magufuli also thanked his counterpart for rendering 'so much' help to Tanzania from time to time, including most recently when he helped treat Mama Miria Nyerere in Uganda, and also chartering an aircraft for her back home.
He said Museveni has shown Tanzania that amongst all friends the country has, 'he is indeed our true friend.'
The two presidents spoke about economic relations, citing that they intend to cooperate and make use of Lake Victoria to bolster trade in East Africa, as well as the newly constructed Chato airstrip and the Standard Gauge Railway.
President Magufuli said the three states of Kenya, Uganda and Tanzania, intend to pool resources for the purchase of ships to facilitate transportation of goods amongst the states.
The two heads of state held a tete a tete briefly at President Mgaufuli's country home before President Museveni departed for Kampala.