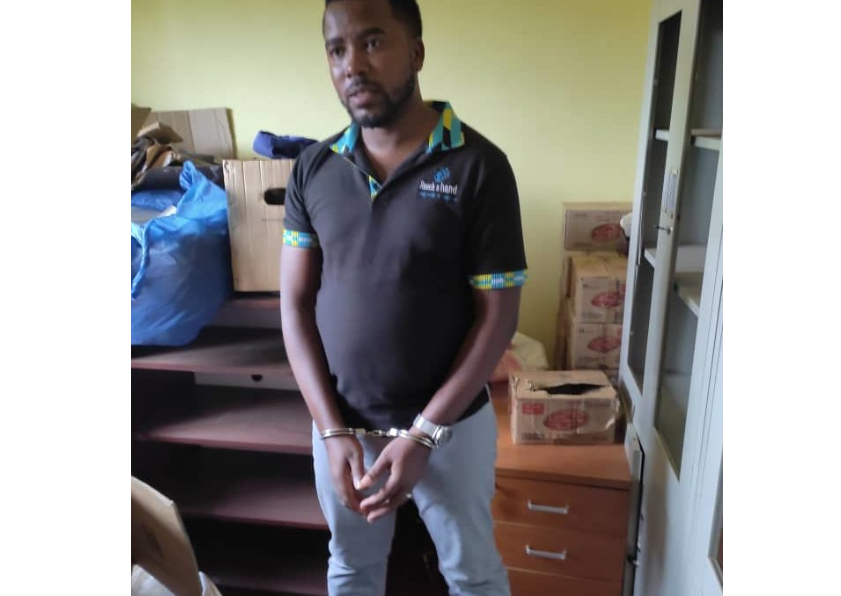 The arrest of Reach a Hand Uganda – RAHU Chief Executive Officer Humphrey Nabimanya has been a big talk on Uganda's internet space over the past few days.
Nabimanya, 32, was picked up on Friday April 16th and detained at the Kireka based Police Special Investigations Division following a search conducted at Reach a Hand Offices in Kansanga, Kampala.
The search, according to a statement released by RAHU was on a general inquiry of Money Laundering and subversive activities which are suspected be taking place within the organization.
"Uganda Police Special Investigation Division conducted a formal search of our offices in Kansanga today with a search warrant signed by the Chief Magistrate of Makindye Court. As Reach a Hand, we are committed to cooperating fully with authorities," part of the statement read.
Reach A Hand Uganda is a youth-led organization that focuses on youth empowerment programs with emphasis on Sexual Reproductive Health, Rights of young people, HIV/AIDS awareness and prevention, among other activities.
The organization has gone ahead to organize several activities including awards, TV shows, developed Youths Apps among others but has also been under scrutiny for a while with many questions being raised about their activities.
In April 2017, Reach a Hand Uganda was one of the organisations affected by the Gender Ministry ban on comprehensive sexual education.
The ban was premised on a theory that the organizations were using Comprehensive sexual education to promote immorality and homosexuality among school children across the country.
Although the ban was later lifted, Reach A Hand Uganda in particular remained under watch on suspicion of promoting homosexuality which is illegal according to the Ugandan law.
In 2018, Reach a Hand offices were raided by Police following a tip from a whistle blower that it had on boarded a donor partner who wanted to use the organisation to promote homosexuality in the country.
Sources inside RAHU say the donor was turned down immediately.
Reach a Hand has and is working with a number of donors and other strategic partners including UKAID, UNFPA, Maristopes, Rutgers International, SRHR Alliance, Seagal Family Foundation, Restless Development, CEHURD among others.
The Tower Post understands that promoting immorality and homosexuality are among the subversive activities that the Police is investigating at the Kansanga based organisation.
Money Laundering
Money laundering is the process of making large amounts of money generated through criminal activity appear to come from a legitimate source.
In most countries, the conversion of proceeds of crime to conceal its illicit origin is criminalized as the offence of money laundering but this hadn't been the case in Uganda until 2013 when the Anti-Money Laundering Act was enacted and the Financial Intelligence Authority established in July 2014.
Organisations that solely depend on donor funds are targeted mostly by individuals seeking to clean their money since not many questions are raised about how the money is acquired.
Reach a Hand Uganda in particular is involved in many activities like awards ceremonies, organizing music concerts, Beauty Pageants all of which can be used to clean dirty money.
A local publisher has said that Humphrey Nabimanya has previously been involved in forging data and misusing funds, something that saw him get forced to step down from the organisation's top most seat.
"It was found out that RAHU was forging data and misusing funds. Donors forced Nabimanya to step down lest they withdraw funds. He (Nabimanya) accepted to resign and play a background role of CEO and appointed a Country Director to run the day to day activities of RAHU," local publisher Campus Bee quotes a source inside RAHU as having said.
Comments
comments