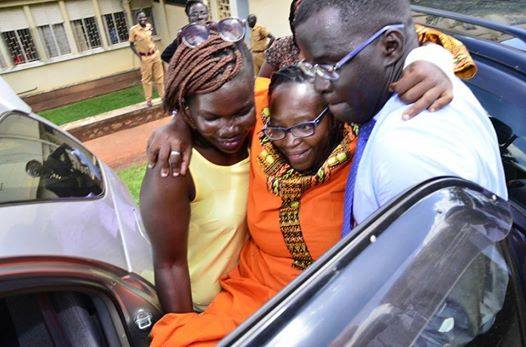 Over 400 scholars, researchers and teachers from universities around the world have expressed concern over the arrest and trial of Makerere University research fellow Dr Stella Nyanzi.
They have petitioned Ugandan President Yoweri Museveni, urging him to uphold freedom of expression in the academia.
Last month, Dr Nyanzi was arrested and charged with cyber harassment and offensive communication for, among other accusations, referring to Museveni, the east African country's three-decade ruler, as "a pair of buttocks".
Her arrest on April 7 came minutes after she delivered a keynote speech on girl children's menstrual health in Kampala. At the same event sanitary towels were brought as part of the #Pads4Girls campaign aimed at providing free sanitary towels to school girls.
Museveni, during 2016 presidential campaigns that saw him win a fifth term, promised that government would provide free pads to girls.
But in March, Janet Museveni, the first lady and education minister, told Parliament that there was no money for the sanitary pads. Dr Nyanzi in her Facebook posts took jibes at Museveni and his wife for living large and failing to prioritise school girls' menstrual hygiene issues.
Nyanzi was released on bail on Wednesday. Now the academics have petitioned Museveni, the man mentioned in the professor's charge sheet.
According to the petition The Tower Post has seen, the professors come from various institutions. But Ugandan university professors are treading a path of caution. Only a few Ugandan scholars working for a few international universities have signed the petition.
The scholars first praise Nyanzi's academic work, then underscore the role of academics.
"For many years, Dr. Nyanzi has made important contributions to the study of sexuality, health, education, and gender in Uganda. She has written over two dozen articles in academic journals which, collectively, have been cited over 1200 times by other scholars writing in academic journals. She has been active in civil society discussions where she has contributed her knowledge and expertise on the issues she has studied," reads the petition in part.
"Researchers and academics working at universities in Uganda, and in all countries, play a vital role in the production and preservation of knowledge for the public good and the development of skills and expertise among Ugandans and citizens of other countries… Academic freedom and the freedom of expression and opinion in general are the cornerstones of a diverse and rigorous intellectual community."
They then express their worry about the suffocation of freedom of academic expression, arguing that the Nyanzi scenario could silence other academics.
"The arrest of Dr. Nyanzi directly targets statements that she made that are related to her research and academic studies. Her detention deprives her of the opportunity to carry out her work. These actions impair her ability to contribute to very important debates about sexuality, education, gender and well-being.
"Additionally, they send a chilling message to other academics whose work may contribute to Uganda's national progress. We are deeply concerned that Dr. Nyanzi's arrest will limit academic freedom in Uganda."
They now want Museveni to "protect Dr Nyanzi's freedom of expression and opinion", affirm his "support for academic freedom, including support for an intellectual environment that allows the discussion of diverse ideas and perspectives" and commit to continue to "support of the human rights of educators and researchers".
Comments
comments