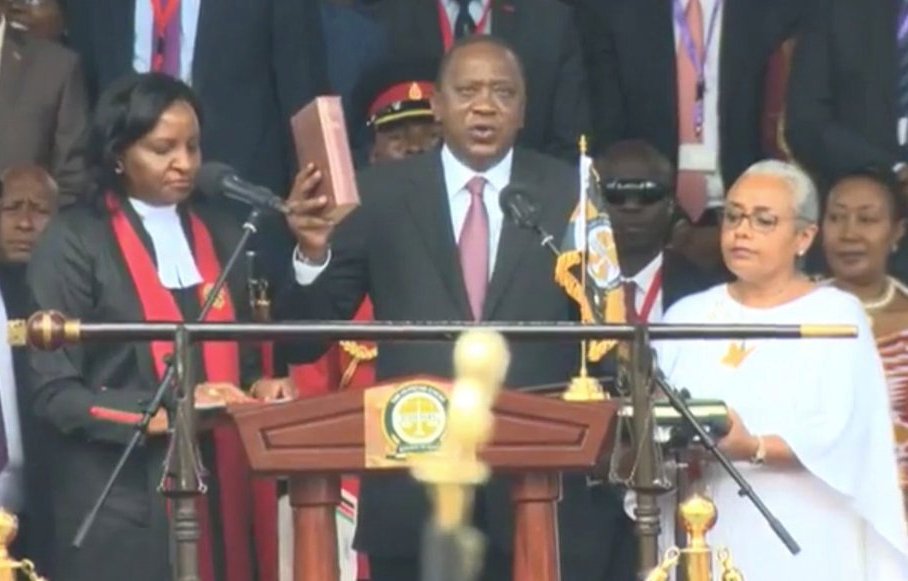 Kenyan President Uhuru Kenyatta has today (Tuesday, 28 November 2017) been sworn in for his second and final five-year term in office.
The ceremony held at Kasarani Sports Stadium, was attended by over 15 heads of state and thousands of people.
Ugandan President Yoweri Museveni, President Paul Kagame of Rwanda and President Salva Kiir (South Sudan) were among the heads of state that attended Kenyatta's inauguration.
Other envoys from Tanzania, Angola, Burundi, Yemen, Guinea, Nigeria, South Africa, the Democratic Republic of Congo, UK, Japan, China, and Ukraine to mention but a few, graced the occasion.
President Kenyatta, who was accompanied by his deputy William Ruto, took both the oath of allegiance and the oath of due execution of office, administered by Chief Registrar of the Judiciary Anne Amadi before Chief Justice David Maraga, and thereafter signed them amidst cheers from the crowd.
Uhuru Kenyatta's inauguration follows Kenya's Supreme Court ruling to uphold his re-election.
Supreme Court judges led by Chief Justice David Maraga dismissed challenges by human rights activists who argued that the October election was illegal because it was boycotted by opposition.
In September this year, the same court nullified the August 8th presidential election over irregularities and ordered a new election which was held last month (October).
According to Kenya's Independent Electoral and Boundaries Commission (IEBC), President Kenyatta garnered 7,483,895 votes, which is 98.27% of the valid votes cast in the fresh election held in October.
Comments
comments