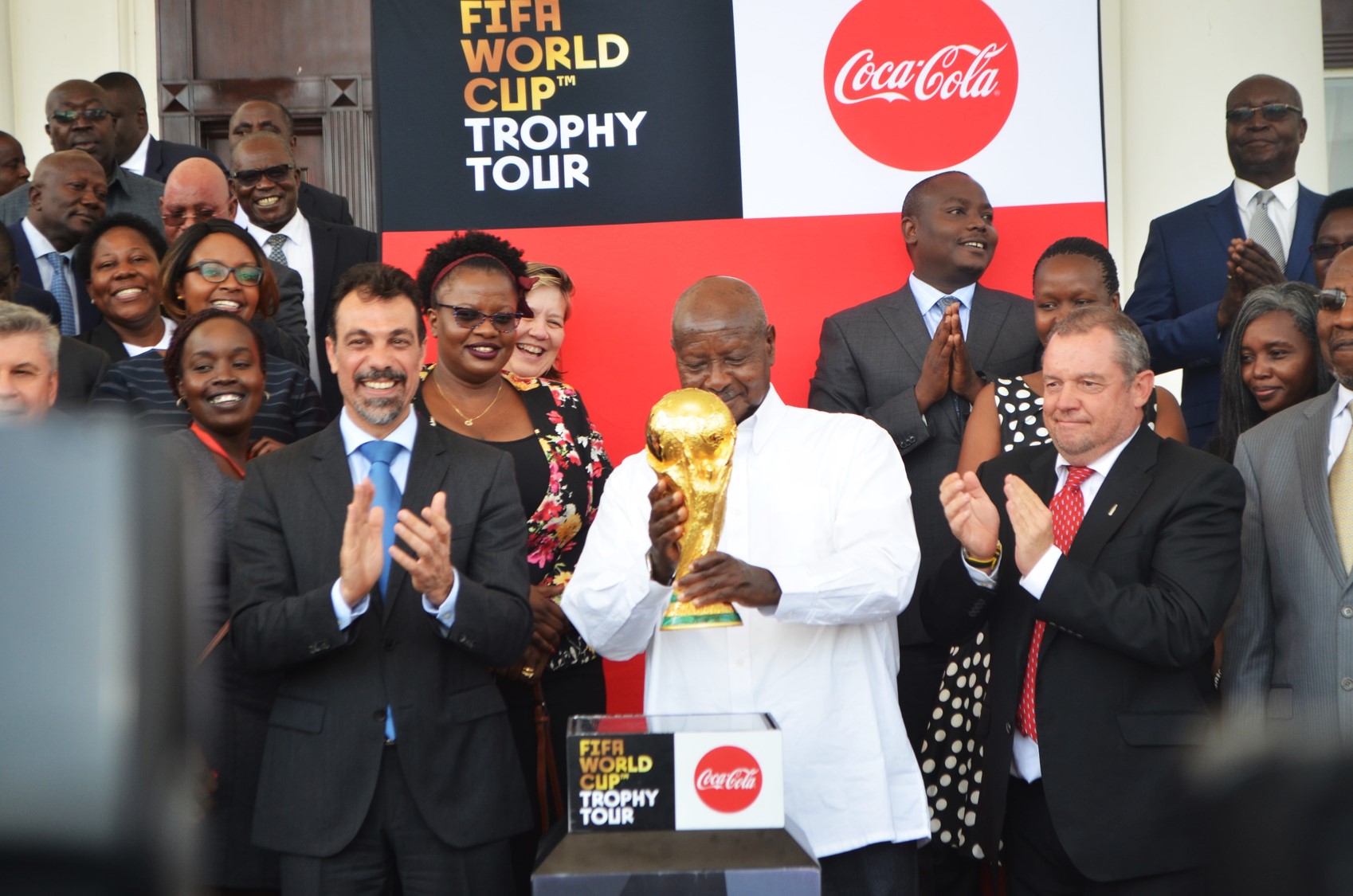 The FIFA World Cup™ Trophy Tour by Coca-Cola arrived in Kampala this morning to an exciting welcome by officials from the government of Uganda, football fans and media at Entebbe International Airport in Uganda.
The plane carrying the trophy and the entourage touched down at Entebbe at 11:00am from Cape Town as part of the African leg of the fourth FIFA World Cup™ Trophy Tour, which started in London in January.
"The arrival of the FIFA World Cup™ Trophy in Uganda signifies the Coca-Cola Company's commitment to bring the World Cup experience closer to the people. We strive to enhance the consumer's every moment experience and we believe having an opportunity to view the FIFA World Cup Trophy tour is one of those rare moments that shouldn't be missed," commented Maggie Kigozi, Coca-Cola Uganda Marketing Manager.
"Following the Trophy Tour, we shall be announcing exciting ways in which Coca-Cola is bringing the World Cup experience to our Ugandan consumers."
The Minister of Education and Sports and First Lady of Uganda, Hon. Janet Museveni received the Trophy along with officials from FUFA and Coca-Cola Beverages Africa led by the Managing Director Conrad Van Niekerk. Russia's ambassador to Uganda also attended the welcoming event.
FIFA World Cup 2018 fans in Uganda will have an opportunity to witness the world's most loved sport trophy tour the country in a number of ways. The trophy will be presented to President Yoweri Kagutta Museveni at State House in Entebbe, before FIFA World Cup fans and consumers have a chance to view it at the Lugogo Cricket Oval on the 6th of March (tomorrow).
"In the world of sports, no symbol stands stronger than the FIFA World Cup™ Trophy," said FIFA President Gianni Infantino. "Everyone recognizes the significance of the Trophy as a unifying force. We are extremely happy to partner with Coca-Cola once again to bring the Trophy to football fans around the world."
The FIFA World Cup™ Trophy Tour by Coca-Cola kicked off in September 2017 in Russia and will visit more than 50 countries across six continents, travelling 126,000 kilometers in the nine months leading up to the 2018 FIFA World Cup™. Within Russia, the FIFA World Cup™ Trophy Tour by Coca-Cola will visit 25 cities – the longest host country tour in history – with one out of every three Russians having the opportunity to experience the Trophy in person.