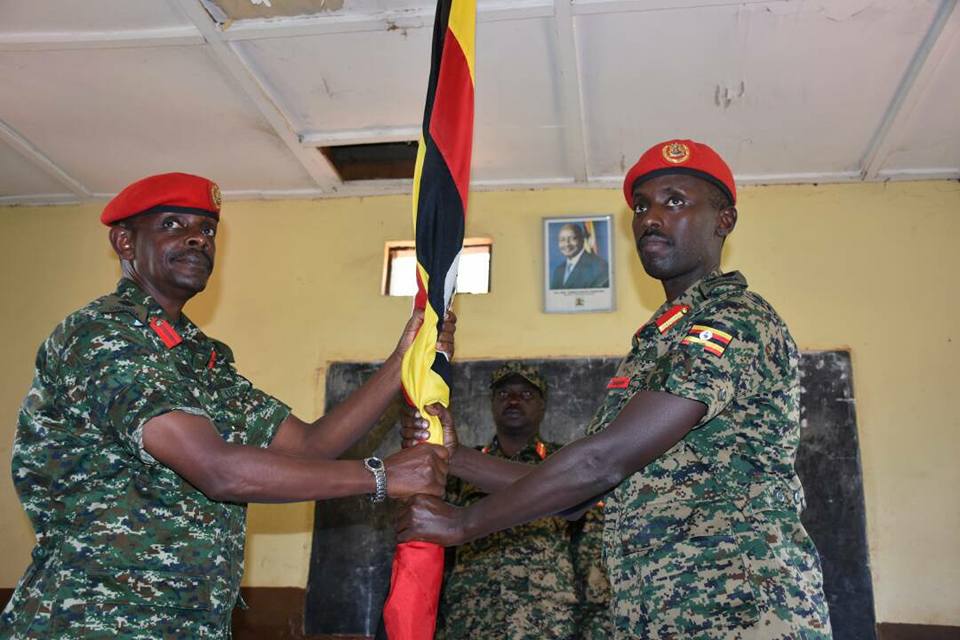 Brig Sabiiti Muzeyi has handed over command of Military Police to Col William Bainomugisha in order to fully concentrate on his new assignment as the Deputy Inspector General of Police (DIGP).
The function at the Makindye-based Military Police barracks was presided over by the UPDF Commander Land Forces (CLF), Maj Gen Peter Elwelu.
In his remarks, Maj Gen Peter Elwelu, congratulated Brig Sabiiti and Col Bainomugisha upon their new appointments and applauded them for being dedicated and loyal senior officers of the UPDF.
He commended the new D/IGP Brig Sabiiti for re-organizing Military Police in a short time, promoting the spirit of team work within the force and making Uganda peaceful despite the emerging new challenges.
"Keep up the spirit of working with others to achieve national objectives," Maj Gen Elwelu told Brig Sabiiti; adding that humility, commitment and team spirit will make Uganda peaceful and stable.
The CLF implored Officers and Men to be good listeners just like Brig Sabiiti has been and further urged them to be vigilant for the prosperity of Ugandans.
"We work for the people and without the people we are useless as UPDF," Maj Gen Peter Elwelu reminded soldiers.
The new D/IGP Brig Sabiiti, lauded the President of the Republic of Uganda and Commander-in-Chief of UPDF Gen Yoweri Kaguta Museveni together with the UPDF leadership for recognizing his contribution to the security of the country which is epitomized by his new appointment to a new area of responsibility.
Brig Sabiiti commended the local community for their joint efforts with Military Police to neutralize crime in Kampala, saying that teamwork, joint security operations, and cooperation with other key stakeholders in the field of development explain his credibility.
The new Commandant Military Police, Col William Bainomugisha, commended the UPDF leadership for his new task as a Red Top Commander; adding that discipline, team work, physical fitness, and time management, among others, will define his leadership at Military Police.
The function was also attended by the Deputy Commandant Military Police Col Geoffrey Karugaba, Regional Police Commander Kakaba, and other Senior and Junior UPDF Officers.
Comments
comments