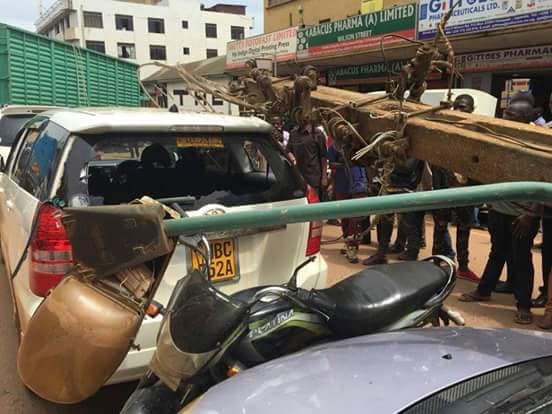 An old concrete electricity pole has Wednesday afternoon fallen crashing 2 two cars and three motorcycles which were packed along Wilson road.
According to eye witnesses, the catastrophe was caused by a passing lorry "which dragged wires pulling the pole down." There were no casualties.
When contacted, power distributors Umeme confirmed that the incident had happened before explaining that the area has full isolation of power line and underground powering so the wires were not live.
"The customers in that area are supplied from an underground network. The concrete pole currently supports street lighting for KCCA," Umeme further informed The Tower Post on phone.
"Our Operations Engineer is already on site and a bigger team is on the way to do a complete isolation but they have been delayed because the area is currently heavily jammed."
Comments
comments