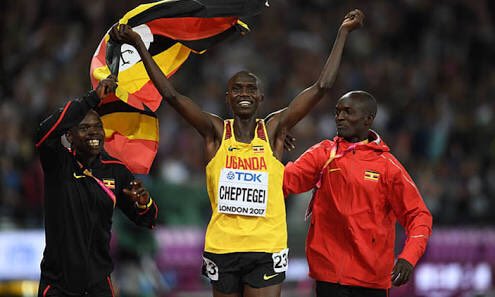 Uganda's president Yoweri Museveni has praised Joshua Kiprui Cheptegei gold in the men's 5000m final at the ongoing 2018 Commonwealth Games in Gold Coast, Australia.
"Congratulations to Joshua Cheptegei for winning Gold in the Men's 5,000m at the ongoing Commonwealth Games in Australia," wrote Museveni on Sunday.
"Your country is proud of you!"
Cheptegei ran for 13:50.83 minutes to beat off competition from Mohammed Ahmed of Canada who completed in 13:52.78 minutes and Kenya's Edward Pingua Zakayo who ran in 13:54.06.
Ahmed bagged silver while Zakayo took bronze.
It was easy to write off Cheptegei, 21, who started off  modestly, pacing alongside fellow countrymen Thomas Ayeko and Phillip Kipyeko.
But with about four of the 12-and-a-half laps left to complete, Cheptegei increased his speed, overtaking those that had dominated the race.
Comments
comments