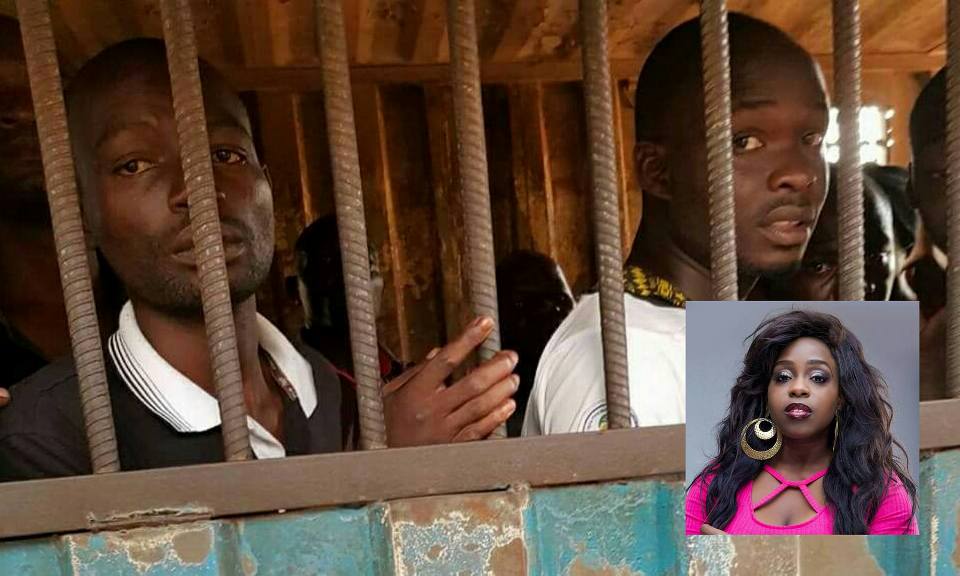 Makindye Court Chief Magistrate Elias Kakooza has Friday charged and remanded three Chicken Tonight staff to Luzira Prison for assaulting and stealing from female musician Angella Katatumba.
The three; Olubrwoth Choka Rogers, Okirot Denis and Kadu john, who work as Manager, Guard and Cleaner at Chicken Tonight Kabagala respectively, were charged with Assault Accassioning Actual Bodily Harm contrary to section 236 of the Penal Code.
Olubrwoth Choka Rogers, the restaurant manager was also charged with theft of Shs 6.2 million belonging to Angella Katatumba.
The trio are accused of beating up Angella Katumba and Jamaican singer Juzi Kz at around 5:00 AM on 29th March 2019.
CCTV camera footage of the incident shows Angella Katatumba and Kuzi Kz being beaten and thrown out of the restaurant before the two drove off.
The two singers arrived at the restaurant and were served their orders but hell broke out when a waiter served them Chilli sauce instead of Tomato sauce. Not knowing which was which, Kuzi Kz poured chilli allover his food mistaking it for ketchup and the food became inedible.
It is that point that the two sides exchanged words before the singers were beaten and thrown out of the restaurant.
The accused have been remanded until 8th May, 2018.