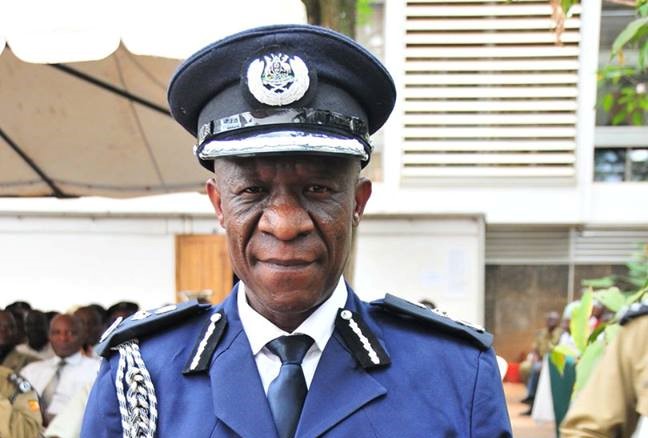 Inspector General of Police Martin Okoth Ochola has transferred a total of 49 Traffic Police Commanders in a new police reshuffle.
The transfers according to the IGP,  are normal and geared towards effective service delivery.
They also take immediate effect.
Here is the full list of transferred officers;
1. SP Kiberu Grace from Sezibwa to KMP as Deputy Traffic Commander
2. ASP Wambesyo Isreal from KMP to Sezibwa as Regional Traffic Officer (RTO)
3. ASP Mpabaisi Tom from CPS Kampala to Sipi as RTO
4. ASP Mugabi Sam from Kawempe to Albertine as RTO
5. ASP Kalenzi Abedi from Jinja Road to West Nile as RTO
6. ASP Zilamuke Loy from Masindi to CPS as OC Traffic
7. ASP Luyima Julius from CPS Kampala to Masindi as OC Traffic
8. ASP Odongo Dickson from Kiira Division to Ntungamo as OC Traffic
9. ASP Ndikuyeze Hadijah from Ntungamo to Kira Division as OC Traffic
10. ASP Kagumaho James from Bugiri to Old Kampala as OC Traffic
11. ASP Kamugisha Elia from Old Kampala to Bugiri as OC Traffic
12. ASP Chelangat Irene from Albertine to Kawempe as OC Traffic
13. ASP Gamal Abdikadir from West Nile to Jinja Road as OC Traffic
14. ASP Angeyo Caroline from Wandegeya to Mpigi as OC Traffic
15. AIP Birungi Agenes from Kakiri to Rubirizi as OC Traffic.
16. ASP Nsiime Saphan from Sipi to Kasangati as OC Traffic
17. ASP Rwakirenzi Reinhold from Kabalagala to Mubende as OC Traffic
18. ASP Magamba Pehinah from Mubende to Kabalagala as OC Traffic
19. ASP Oinebye Bruce from Kasese to Kakiri as OC Traffic
20. ASP Ngabire Ruth from Kakiri to Kasese as OC Traffic
21. ASP Mutungye Savasio from Kira Road to Kayunga as OC Traffic
22. ASP Kobusingye Rukandema Allen from Kasangati to Kira Road as OC Traffic
23. ASP Onono George from Mpigi to Kakumiro as OC Traffic
24. ASP Habyara Justus from Rubirizi to Njeru as OC Traffic.
25. D/ASP Kiwala Zainab from HRM to Environmental Protection Police Unit.
26. D/ASP Muhwezi Lauben from HRM to CID headquarters
27. C/ASP Nalubega Sarah is regraded into the Directorate of Human Rights and Legal Services and transferred from Kyegegwa to Police headquarters.
28. IP Katureebe Bedah from Kisoro to Ibanda as OC Traffic
29. IP Nanangwe Irene from Kamwenge to Kasanda as OC Traffic
30. IP Nyanjura Jesca from Kiryandongo to Kayunga as OC Traffic
31. AIP Opio Martins Kibony from Otuke to Kwania as OC Traffic
32. AIP Nyesigire Edmund from Kisoro takes over as OC Traffic
33. AIP Muhumuza Swaibu from Ibanda to CPS Koboko as OC Traffic
34. AIP Akena Christopher from CPS Kampala to Bukomansimbi as OC Traffic
35. AIP Nekesa Susan from Kira Road to Bukedea as OC Traffic
36. AIP Iwumbwe Abdu from Mukono to Mitooma as OC Traffic
37. AIP Opio Patrick from Old Kampala to Kanungu as OC Traffic
38. AIP Okuru Eric From Kiira Division to Nwoya as OC Traffic
39. AIP Tootika Wilson from Nwoya to Kotido as OC Traffic
40. AIP Katsigazi Buhire from Kisoro to Kiryandongo as OC Traffic Dam
41. AIP Baluku Anatoli from Rubirizi to Luwero as OC Traffic Zirobwe
42. AIP Emojong Anthony from Kanungu to Mayuge as OC Traffic
43. AIP Ziraba Piston from Mayuge to Sembabule as OC Traffic
44. AIP Gumisiriza Nathan from Kotido to Kiira Division
45. AIP Ogong Samuel from Moroto to Mbarara as OC Traffic Rubindi
46. AIP Kopia James from Kawempe to Moroto as OC Traffic
47. IP Nakibuuka Annet from Njeru to Kiira East as OC Traffic
48. AIP Muhoozi Juluis from Kakumiro to Nansana as OC Traffic Buloba
49. AIP Anyango Selina from Nansana to CPS Kampala
Comments
comments