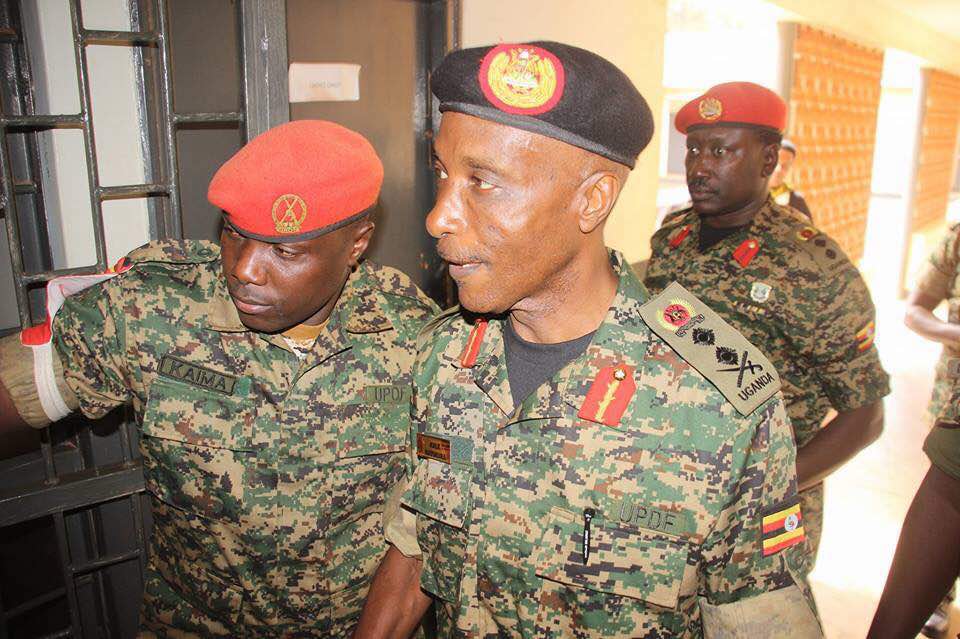 Former Inspector General of Police Gen. Edward Kale Kayihura has Friday been charged with aiding abduction and failure to protect military weapons.
The former Police chief, who has been in detention at Makindye Military Barracks since June this year, appeared before the General Court Martial in Makindye on Friday morning.
Prosecution told court that the former police chief failed to protect military weapons and account for fire arms, during his tenure as Inspector General of Police, which is contrary to provisions of the UPDF Act.
Court was further told that Gen Kayihura allowed members of the Bodaboda 2010, headed by Abdullah Kitatta and other unauthorized persons to use military materials like guns illegally.
Kitatta and twelve others were arrested in January this year and charged with a number of offences related to unlawful possession of military hardware.
Prosecution led by Maj Raphael Mugisha also told court that Kayihura failed to provide accountability for arms and ammunition in the various Police units like the Crime Intelligence Directorate (CID), Flying Squad Unit and Witness Protection Unit.
The former IGP is also charged with aiding and abetting kidnapping, from Uganda, which is contrary to section 19 of the Penal Code Act.
Prosecution alleges that Kayihura, between 2012 and 2016 aided and abetted the actions of his subordinate police officers and others, to kidnap and illegally repatriate Rwandan refugees and Ugandan citizens; Lt Joel Mutabazi, Jackson Karemera and Sgt Innocent Kariisa to Rwanda.
Gen Kayihura, who served as IGP for 13 years, denied all charges and asked for bail through his lawyers Kayihura's lawyers, top which court granted Tuesday, August 28, 2018 as the date for hearing the request.
Court was adjourned to September 3rd, 2018 after the head of prosecution Maj Mugisha told court that investigations were still ongoing.
Comments
comments