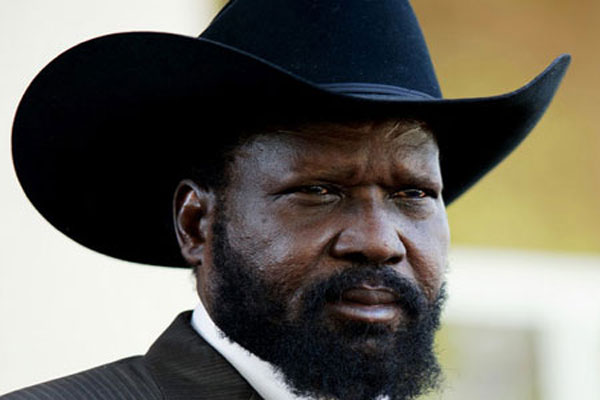 The military command of South Sudan People's Defence Forces (SSPDF) has awarded Seven medals to President Salva Kiir for his outstanding, long and distinguished military services to the nation during the days of the liberation, and during and the post Comprehensive Peace Agreement (CPA) interim period.
The ceremony at which the award was made was attended by the Vice President James Wani Igga, Presidential advisors, national ministers, diplomatic corps, foreign military attaches and the Inspector General of the Police.
The awarding of the medals, on Thursday, were based on the recommendation of the 5th Command Council Conference held in 2016.
The Chief of General Staff Gen. Gabriel Jok Riak bestowed upon President Salva Kiir Mayardit, who doubled up as the Commander in Chief of the South Sudan People's Defense Forces.
The seven medals include a medal of National Heroism, Bravery, a medal for steering the army to achieving Independence, Long Service Conduct, Distinguished Military Service, Counter Insurgency and Combat Proficiency.
Addressing the ceremony, Kiir said he was humbled with the medals that they should have been awarded to his comrades who are no longer around and those who came before him.
The South Sudanese leader, however, promised that those who died before him would not be forgotten and pledged to honour them for unpaid tireless contribution during the liberation struggle with medals on the day of the national peace celebration due to take place in Juba on the 30th October 2018.
He urged and reminded the military to protect civilians and their properties. Vice James Wani congratulated him for his honour and awards bestowed upon him by the army.
Defence and Veteran Affairs Minister Kuol Manyang Juuk outlined that Kiir has demonstrated fortitude, loyalty to the cause and revolutionary throughout the hard years of the struggle which culminated in the signing of the Comprehensive Peace Agreement in 2005 and united the people of South Sudan in the wake of the untimely death of Dr John Garang De Mabior.
Chief of Defence Forces, General Gabriel Jok Riak reiterated the commitment of the South Sudan Peoples Defence Forces to observe the ceasefire agreement and execute the orders of the Commander in Chief.
The recognition, he further said, comes at the time the nation enters into the implementation of the Revitalized Peace Agreement on the Resolution of Conflict in the Republic of South Sudan.
REPORT: Sudan Tribune