The war of words between fashion icon Sylivia Owori and Barbie Kyagulanyi, the wife of singer and Kyadondo East MP Robert Kyagulanyi aka Bobi Wine has persisted for days now.
At the centre of fanning this cold war are the fans of both Owori and Mrs Kyagulanyi.
Fans continue to trade insults, with Owori facing the full of wrath of the entire fan base of Bobi Wine and his People Power outfit.
At least in recent months, Bobi Wine fans have been notorious for hurling insults at whoever speaks or writes something they disagree with about the rising political figure, his wife, children and People Power.
Social media fans of Barbie, Bobi Wine and People Power have been digging into Owori's past, depicting her as one who once sold her body for money – and therefore unfit to criticize Barbie, Bobi Wine's wife.
The juxtaposition of the two women has occupied lots of social media space, especially on Facebook where it all started.
It is this wrath that Owori has endured for days since she commented on a post by Barbie on her page on which she describes herself as "An Author, Executive director Ghetto President reality Tv show, In charge One love beach Busabala, Founder Caring hearts Uganda, Passionate advocate for girls".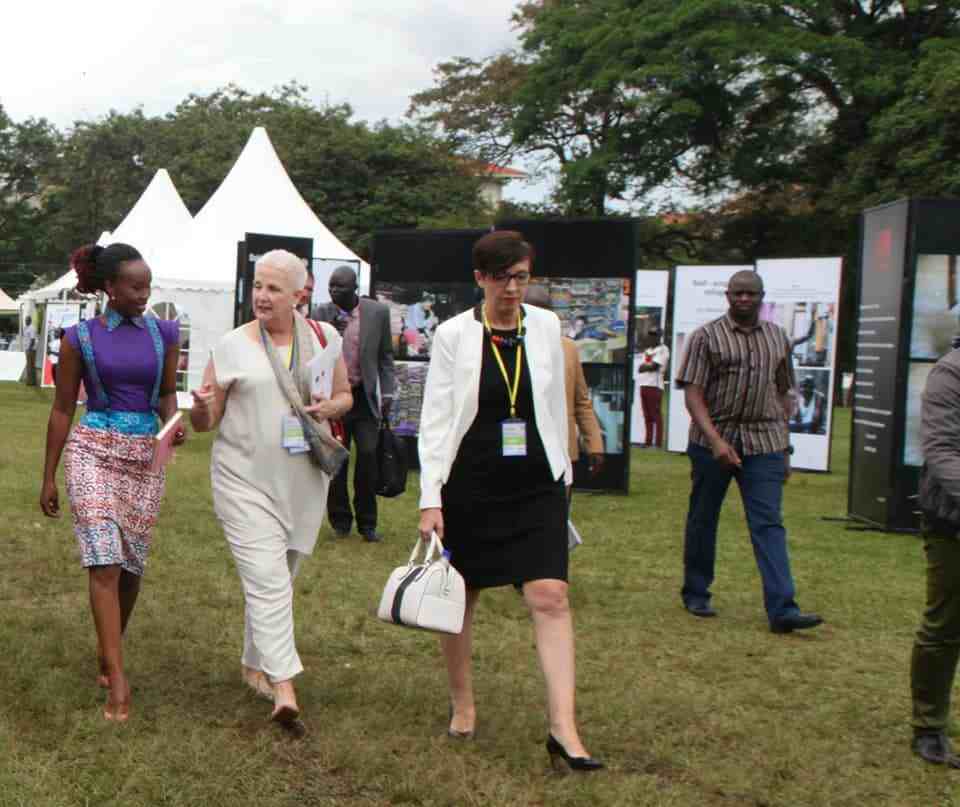 It was an honour for me to attend the very first Geopolitics conference organised by the French embassy and held at Makerere University today.

My self, together with H.E Malac Deborah (American ambassador to uganda) Dr Maggie Kigozi, H.E Stephanie Rivoal (French Ambassador to Uganda) Hon. Winnie Kiiza and Sarah Ssali (Dean school of women and gender studies Makerere University) sat on the same panel to discuss the meaning of the word POWERFUL WOMEN…

Our discussion was wide but I carried some questions along and I would like to pick your thoughts on these topics.

Do you think men are intimidated by women in leadership positions? Where Do you think we stand today in the struggle for women empowerment and gender equality? Are women coming out to take on the platforms availed to them in the leadership arena? Who in your opinion represents a strong woman? I will be sharing a few videos of our discussion soon. Thank you French Embassy for inviting me. It was humbling.
Sylivia Owori commented with a question for which she has been 'roasted' by Barbie's fans for days now.
"I am a little confused here. Are you one of the most powerful inspirational women in Uganda??? There are over 1000 women who should have rightfully been on that panel discussing Women issues," commented Owori.
"Let us not mix politics with meritocracy."
Some people praised Barbie Kyagulanyi's response to Owori.
"Am I one of the most powerful inspirational women in Uganda? OH YES I AM ONE OF THE MOST INSPIRATIONAL WOMEN UGANDA HAS EVER HAD and you are an inspiration too Mama," Barbie responded to Owori.
"I hope they invite you next time because I know you would fit on this panel just like a Million other Inspirational women out here."
Yet Owori was not yet done with Barbie.
"Hide nothing from the masses of our people. Tell no lies. Expose lies whenever they are told. Mask no difficulties, mistakes, failures. CLAIM NO EASY VICTORIES…" Owori later wrote in the heat of the cold war.
"The Celebration of mediocrity in our society must end now."
To help us understand the divergent views of the fans on either side, here are thoughts by two bloggers: Ashburg Katto, a member of the Bobi Wine social media team; and Arthur Musinguzi.
In Ashburg Katto's Words
DEAR SYLIVIA OWORI;

My name is Ashburg Katto… If you have had your shine, why do you want to dim the light of another woman because your light is no longer shining bright or its completely put out? Why are women of yesterday pulling down fellow women of today?

Sylivia Owori, you used to be a force to reckon with, from the days of Sylivia's boutique on Wilson Street, we were in Masaka and you were the talk of Kampala. You had the most expensive boutique. Infact if anyone walked into your boutique, you used to look at them from head to toe to see if they were worth your time. You judged people's pockets by looking at them and before they bought anything from you.

Then you went to Miss Uganda, you did so well, shone and you were on top of your game. Even when rumours were circulating around town that you were training mostly escorts instead of beauty queens, we still sniffed your name and let you shine.

After many years, you end up into a court battle with Nasser Sebaggala over your son Nielson Munk who was later changed the name to Adam Sebaggala. As a woman who is married to a white man, you ended up with a black child… I am sure you were so in shock that old man like Sebaggala still had live ammunitions in him.

In other wards you are a married woman who sleeps around with married men.

Now nyabo where do you get the audacity to talk about a fine woman like Barbie Kyagulanyi?

So you need me to remind you that you lost the court case to Sebaggala, lost the Miss Uganda franchise, African Woman Magazine closed, faded off the showbiz charts, 4-4-2 magazine closed and all you have is a lousy boutique that sells grade 10 Chinese prints?

So you desperately want a comeback and you saw it fit to start attacking respected, inspirational women like Barbie?

During your days of shining, you failed to inspire a single soul, you were running after married men, hooking up young girls with old pensioners hence nothing tangible you added onto the development of Uganda…

Barbie Kyagulanyi is a force to reckon with, she is Executive Director Caring Hearts Uganda, which has helped many rural girls to make reusable pads, she is a business woman running and managing One Love Beach, Busabala, an author, please google the GOLDEN MEMORIES OF A VILLAGE BELLE, its selling on Amazon and on the syllabus of Rwanda school curriculum, a mother of 4 in the same man and on top of that a wife to [an] influential man in Uganda…
In Arthur Musinguzi's Words…
If it wasn't that they wanted a female panel. I don't see how Barbie wears the shoes of talking about geopolitics or international relations.

If you look at the people that were on it like Winnie Kiiza, the French Ambassador and the USA one all of them have in-depth experience about geopolitics and I can be taking notes while they talk.

Naye Barbie? Me I know her as a life style person who is now married to an MP.

Sylvia Owori talked about meritocracy which is about merit and not hype.

When they call Bobi Wine a President he knows very well he's not the one unless it's for the Ghetto where they also don't vote for him so it's just a stage title to sell songs.

I'm thinking my friend Barbie is being misled into the thinking she's a First Lady.

The panellists I know have serious ease with which they analyse a topic from each and every angle.

Just to throw a word of advice next time some of us are chosen to nominate a panel please get people with hard earned merit in whatever sector they'll speak about. Less of that, questions about how one ended up on the panel will always arise.

As you can see in the screenshot Barbie couldn't defend anything about "meritocracy"

Actually if they had broken the rules and put Bobi Wine on that panel I bet this fight wouldn't have gone online.
The latest on this war of words is that Owori has said that Barbie's "biggest achievement in life is a marriage certificate".
There has also been a series of drawings circulated by fans of Barbie, Bobi Wine and People Power in what seems like an orchestration to further shred Owori for 'attacking' a woman they support.
Comments
comments