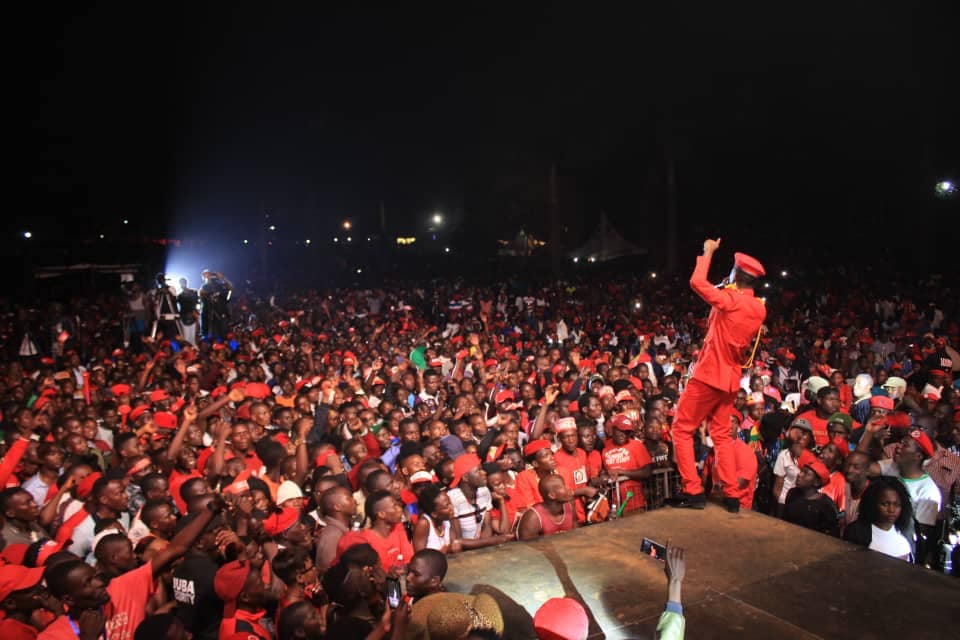 Multitudes of supporters from all walks of life on Saturday thronged One Love Beach in Busaabala to attend Kyadondo East MP and musician Robert Kyagulanyi alias Bobi Wine's long awaited 'Kyarenga' Concert.
People, many clad in red attire, started arriving at One Love Beach as early as 10:00AM and by 1:00PM, the venue was filled by thousands.
Bobi Wine stepped on stage at exactly 7:00PM amidst cheers from the crowd. Kicked off his performance with "Situka", "By Far", "Tugambire Ku Jennifer" among others.
Despite a warning from Police not to turn the concert into a political rally, Bobi Wine would in the middle of his performance would keep reminding the crowd that it is their responsibility to bring to their country.
"I urged each of you get a National Identity card and just wait for 2021," Bobi Wine told the youths.
A National Identity Card is a requirement for one to be eligible to vote in the general elections.
Bobi Wine also responded to the criticism he has been receiving from elites who argue that he has no policy alternatives.
"The elites keep asking what my policy alternatives are but I say what is important is for the people to first reclaim their power and once we are in charge, we can determine what direction our country should take," he said.
Besides passing on political message, bobi Wine put up a great show, while performing live alongside Solid Band and Fire Base Entertainment musician Nubian Li.
Opposition MPs and politicians including Asuman Basalirwa, Francis Zaake, Paul Mwiru and Barnabus Tinkasimire and Human Rights Lawyer Nicholas Opio among others were also in attendance.
Fellow musicians like Spice Diana, Eddy Kenzo, King Saha, Geoffrey Lutaaya, Pallaso, Dr. Hilderman, Nina Roz, Kalifah Aganaga to mention but a few also performed at the concert.
See photos: