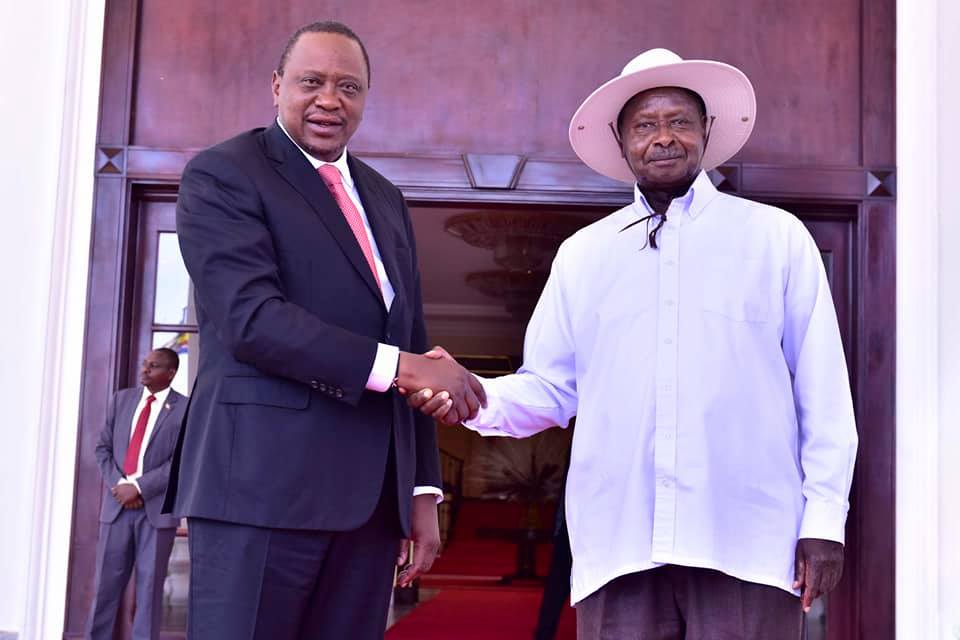 Kenyan President Uhuru Kenyatta on Monday visited Rwanda and Uganda and held private meetings with Presidents Paul Kagame and Yoweri Museveni.
kenyatta began with Rwanda and held talks with Kagame at the Rwanda Defence Forces (RDF) Combat Training Centre in Gabiro.
He thereafter flew to Uganda where he had talks with President Museveni at State House, Entebbe.
"President Yoweri Kaguta Museveni and his counterpart President Uhuru Kenyatta on Monday held a bilateral meeting at State House Entebbe. President Uhuru was in Uganda for a brief working visit. The two leaders discussed various local and regional issues," State House said on Monday evening.
Although, State House did divulge details of the talks between Museveni and Kenyatta, it is in all likelihood that the two leaders discussed about the diplomatic row between Rwanda and Uganda.
Rwanda two weeks ago closed their border with Uganda at Gatuna, denying Ugandan cargo trucks from accessing Rwanda. They also warned their citizens from crossing to Uganda.
Kigali would later accuse Uganda of supporting rebels opposed to the Kagame's government, a claim the Ugandan government firmly denied.
Last weekend, while commissioning factories in Mukono District, President Museveni said, "Uganda is now stable and I have said before that those who try to destabilise our country do not know our capacity. It is big. Once we mobilise, you cannot survive if you are a trouble-maker".
Paul Kagame would thereafter respond saying, "When I hear somebody say 'no one can destabilize our country,' I agree. No one should actually be destabilizing that country, but that country should also not be destabilizing others. I think it is fair deal, isn't? Yes, it is a fair statement that when you're another country no-one can destabilize your country, I agree with it 100%. But in the same breadth, why should you be the one to destabilize other countries."
Kenyan President Kenyatta, while briefly addressing government and private sector officials in Rwanda earlier on Monday, acknowledged challenges within the region but called on leaders to work together to find solutions.
"It is true that we are faced with some challenges as neighbours and as a region. Through goodwill and good intentions, we will be able to resolve these challenges," Kenyatta said.
"We need to connect more. Rwanda alone … Kenya alone will not make it but together we have tremendous potential of growing prosperity for our people and our countries," he added