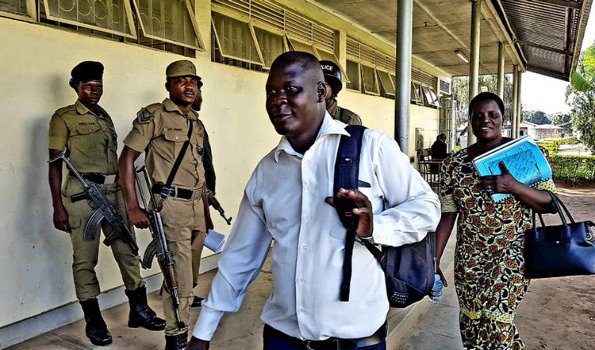 The Chief Administrative Officer(CAO) of Nebbi District, Geofrey Okoka and  Ludara Sub County chief, Afayo David Okokira were on Thursday handed over to police over false accountability.
The Public Accounts Committee (Local Governments) which is in the West Nile Region as part of their oversight role, handed over the two officers to the police for not remitting local revenue to the district accounts.
Okoka was accused of lying on oath and in the process of further interrogation, the committee members suspected him of being drunk.
The Chairperson of the Committee, Hon Akello Franca directed the police to detain him until Friday 10 May 2019.
"CAO, it seems you are not sober. The Committee is going to detain you. You will reappear  at 4:00pm when you are fine," Akello Franca said.
Afayo on the other hand is accused of non-remittance of local revenue and lack of accountability.
The key audit queries being investigated in the West Nile region include failure to recover Youth Livelihood programme funds, non- remittance of local revenue and withholding tax, under staffing in hospitals, shortage of medical equipment and non- compliance with repayment schedules.
The committee will meet sub county chiefs and municipal council officials to scrutinize key audit issues raised in the Auditor General's reports.
Comments
comments