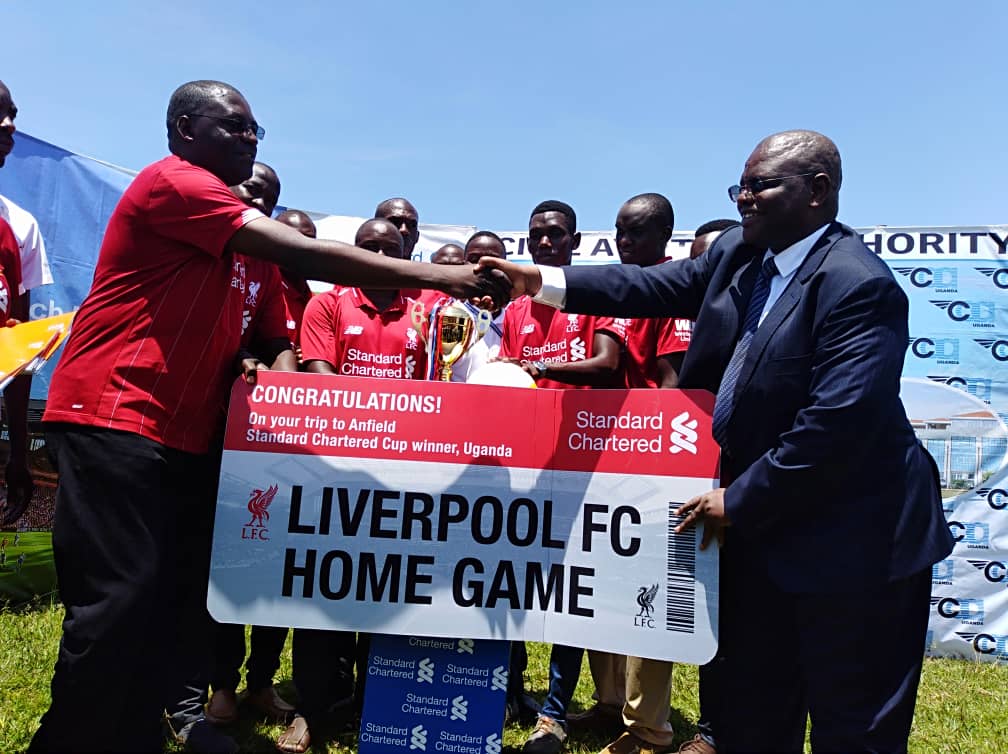 Standard Chartered Bank has Tuesday officially flagged off the Uganda Civil Aviation Authority (UCAA) football team that beat NWSC 6-0 to lift the Standard Chartered Bank Cup 2019.
The once in a lifetime 'Money Can't Buy' trip to UK was the grand prize for this year's SC Cup tournament which saw 34 corporate teams participate and tussle it out for top spot at Mandela National Stadium, Namboole on Saturday, 18th May 2019.
The flag off event took place at Merryland Secondary School in Entebbe and combined a soccer clinic, motivational talks and a press conference.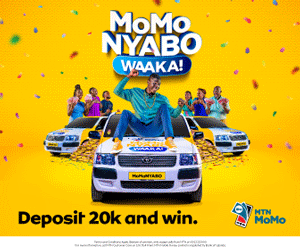 The soccer clinic involved a Coaching session where over 100 students were trained in football and given football tips by the Bank's sports league members and the UCAA football team in partnership with Edgars Youth Programme.
The footballers also had a chance to mentor and inspire several more students at Merryland when they addressed them on various topical and inspiration issues like pursuing one's dreams, taking risks and determination.
The team of six players will travel to Liverpool, UK on an all-expenses-paid trip by the Bank on Wednesday 2nd October 2019 and return on Monday, 7th October 2019. While in Liverpool, the team will engage in the activities below;
Watch the Liverpool vs Leicester City game live at Anfield on Saturday, 05th October 2019.
Attend a professional training session with Liverpool Football Club Legends at the LFC academy
Private tour of the Anfield stadium and LFC museum
Tour Liverpool town and visit key sites
During the send-off, the UCAA team comprising of Kato Paul – Goal Keeper, Moses Mugwanya – Defender, Tonny Zziwa – defender, Steven Selubiri – Mid-fielder, John Bosco Basi -Mid-fielder, Ali Sulaiman – Striker and Fred Kadde – Striker were handed their air tickets.
The UCAA team's representative Mr. Andrew Wafula while addressing the press conference expressed his team's enthusiasm and emphasized that this was a dream come true for the team that was traveling for the very first time.
"We are very pleased to be the title holders of the Standard Chartered Cup 2019 after a very stiff competition. Our boys badly wanted this win after having lost to Cipla last year so we trained harder. We would like to thank Standard Chartered Bank for organising this futsal tournament which has granted us this opportunity to travel to the UK and watch LFC play live. I also thank our employer, UCAA for investing in and promoting sports in our organization. Without their support, we wouldn't have been able to compete, train regularly as a team or even register as a corporate team so we acknowledge this opportunity resulting from that strong support. The team is looking forward to training at the Liverpool academy and of course watching the Liverpool stars at Anfield," Mr. Wafula concluded.
Mr. John Mwesigye, the Chief Information Officer and Chairman Organizing committee of the SC Cup tournament at Standard Chartered Bank praised the teams for the spirited and intense fight that they displayed during the tournament that saw them crowned saying;
"We wish to congratulate CAA for winning this year's SC cup tournament and to wish them safe travels as they prepare to depart tomorrow for Liverpool, UK. In the same spirit, I also want to appreciate them for heeding our call when we opened up the registration exercise in February. They exhibited enthusiasm by fielding two strong teams which increased their chances of winning and they also displayed great sportsmanship on the pitch. We also want to thank all the teams that participated, it's because of them that we still run this exciting futsal tournament. Since the inception of this tournament in 2015, it keeps growing and has registered great success with our clients who continue to embrace to and respond positively towards. We commit to continue staging this competition to benefit and reward our customers by extending our Liverpool sponsorship to them. We wish them the very best as they head to the United Kingdom to enjoy the fruits of their well-deserved win." Mr. Mwesigye said.
Speaking at the conference, the Ag. Director General UCAA, Mr. Fred Bamwesigye expressed enthusiasm at his team's win saying;
"CAA is honoured and grateful to Standard Chartered for giving us the opportunity to participate in the SC Cup tournament once again. At CAA we appreciate the importance of sports in promoting a strong culture, brand, engagement and motivation of our employees and we will continue to invest in our employees to avail them opportunities such as these.
We are truly excited that our players' hard work paid off, they trained intensely the whole year with their eyes set on winning this tournament so it was a relief for them to carry the trophy at the end of the day. I appeal to our team to fly Uganda's flag high during this visit even as they enjoy this once in a lifetime experience. We look forward to listening to the stories of what transpired on the trip and we wish you the very best," Mr. Bamwesigye concluded.
The tournament is designed in a Round Robin structure which is divided into (Group Stages, Round of 16, Quarter finals, Semi Finals and the Finals).
Comments
comments