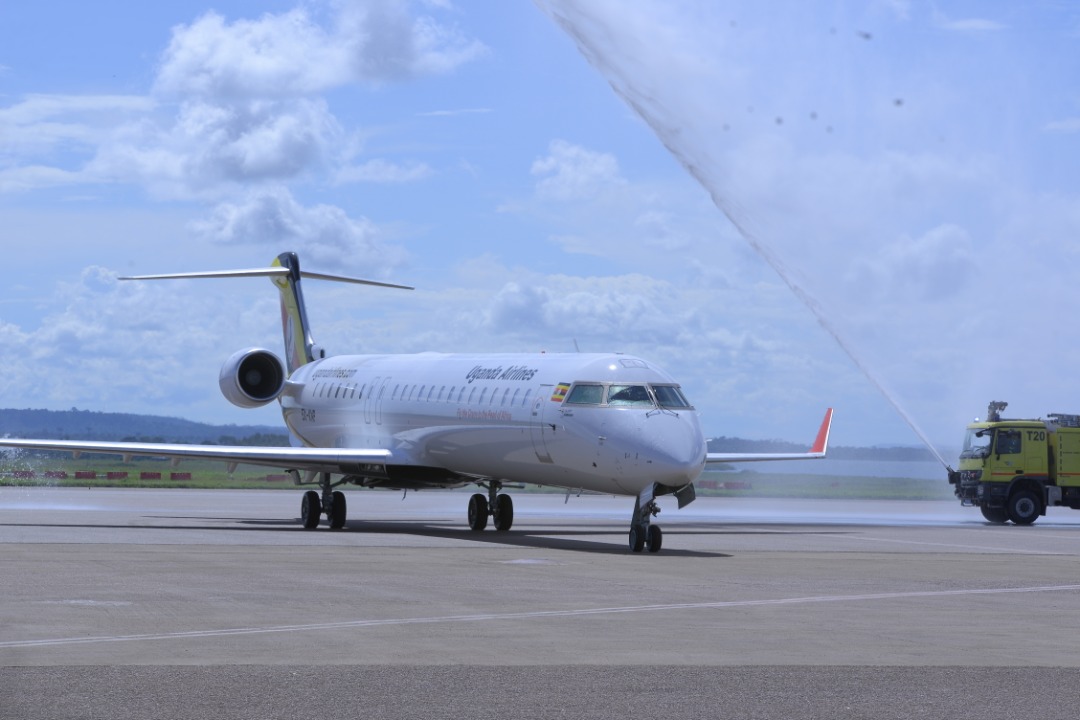 Uganda Airlines' fleet has Monday increased from two to four planes after the arrival of two more bombardier CRJ900 aircrafts.
The aircrafts which touched down at Entebbe Airport at 15:05 EAT and 15:10 EAT were both received amid cheers from onlookers who included politicians, civil servants, journalists, social media influencers among other big public figures.
The arrival of the two aircrafts also fulfils President Yoweri Museveni's promise and pledge to revive the national carrier and to have four aircrafts by end of 2019.
In his speech, Uganda Airlines CEO Cornwel Muleya said that with the addition of the new aircrafts to the fleet, the carrier will add more routes to Southern and Central Africa which will include, Kinshasa in DRC, Zanzibar, Asmara in Eritrea ,Hargeisa in Somali land, Lusaka in Zambia , Harare in Zimbabwe, Johannesburg in South Africa,Djibouti and Addis Ababa in Ethiopia.
Muleya also added that it wasn't the end of the journey because other international destinations will be added to the network on acquisition of two Airbus A330-800neo wide-body aircraft which is expected to be part of the Uganda Airlines fleet in 2020.
State Minister for Works Gen. Katumba Wamala who was also the chief guest at the welcome event thanked the president for the support and guidance on the plan for the revival of Uganda airlines.
Katumba was representing Rt. Hon. Prime Minister Dr. Ruhakana Rugunda.
"I applaud the ministry of Finance planning and Economic Development who have worked tirelessly to make sure that full payment of these bombardiers is done and I assure you that that we have no debt. Above all I thank the nation for their keen interest in the Uganda Airlines showing love for their country, he added.
Uganda airlines is currently running a two month -long promotional campaign with a subsidized fare in a bid to see more nationals and tourists prefer the national carrier.
Comments
comments