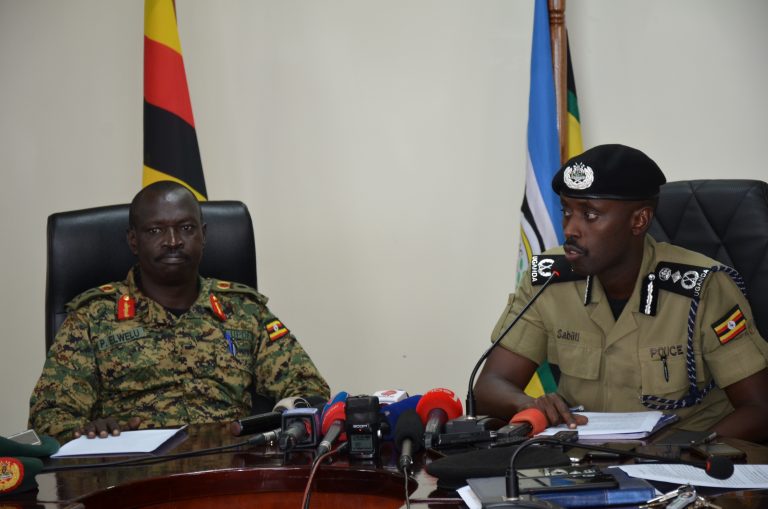 The Deputy Inspector General of Police Major Gen. Sabiti Muzeyi, has unveiled a master to plan combat violent crimes in Kampala and surrounding areas.
The plan is a reaction to President Museveni's directive earlier this week. Museveni ordered the deputy IGP to come up with a plan within two days and present it to him. The President decried the recent rise in violent crimes describing the perpetrators as 'pigs'
"Today, I will only comment on the pigs that are attacking people with pangas and mitayimbwa (steel- bars) and robbing them. These are gangs we shall easily defeat. That is what we did with the Kiddawalime gang in Masaka, the gang of Bukomero, the gang of Entebbe etc,"read message he posted on his wall.
"I have given two days to Commander Sabiiti of the Police to come out with a plan to combat these gangs. The IGP is away in Peru for a meeting. I will look at that plan, comment on it and it will, then, be communicated to all of you," he continued.
In response, Sabiti said there has been a plan which was announced by the president and the police has been going by the plan with great success. 
"I want to report that a lot of strides have been made in this regard, including the aspects of installation of cameras, finger printing of fire arms, improving the police Forensics capacity, as well as improving the Crime Intelligence and Criminal Investigations Directorates, all of which are ongoing," Sabiti relayed in his report to the President on Thursday.
"This notwithstanding, the KMP area has encountered a new wave of violent crime, which compelled us to review our plan in order to enhance better effect in decisively handling this prevalent crime."
 A review plan features the following strategies; 
(1) Linkage with and effective communication with the public,as well as public awareness. Each family in a zoned area of responsibility, shall be given a telephone line of the nearest station or post.
The public is encouraged to share all relevant information on all matters of security including distress calls. We shall put suggestion boxes at the stations and LC offices. Messages will only be accessed by a select team and all the messages will be treated with confidentiality. The public can also deliver text messages or whatsapp messages on 0707114114
We also appeal and encourage the public to have community based security approaches such as employment of village scouts, vetting and registration of those that work at homes- plumbers, casual labourers, house helps, etc.; installation of cameras in their premises and vehicles (taxis, public and private transport), to boost our surveillance and investigation capacities. Public vigilance and cooperation is very crucial in the effort to eliminate crime.
(2) Quick and effective response. In this regard, the KMP area is going to be divided into policing zones or security constituencies for each station or post, with attendant published call lines, reaction forces and linkage to all stations and posts as well as cameras, when there is a distress call. Other enablers include:
Registration and marking of streets and residences to enhance quick response Lighting of streets and or individual premises or residences where affordable.
(3) Effective investigations and prosecution of culprits. To this end, we require a more robust and dedicated prosecution and judicial set up to handle this violent variant of crime. Government will discuss modalities with the Judiciary and the DPP.
(4) Profiling and pursuit of known repeat offenders. This is already an ongoing process and the hunt is on.
(5) The above mentioned measures mainly address the security of residences. However, we realize that violent crime also manifests in non-residential locations affecting especially vulnerable pedestrians or motorists. In this regard, security will ensure more visibility,
accompanied by camera surveillance (where available) to respond to incidents.
• However, the public can also play a critical role here. We therefore mobilise the public to be extremely vigilant and security conscious. Avoid moving with lots of money without the requisite security precautions. If you have to move late, make the necessary security contingencies, including not moving alone and update those concerned in case of need of help. Do not expose those that are most vulnerable to unnecessary risk especially young children and ladies, moving alone late in the night.
If we step up individual and group/communal vigilance and consciousness, the risk to individuals can also be largely mitigated. We shall keep updating you as we proceed with implementation of these added measures.
Comments
comments