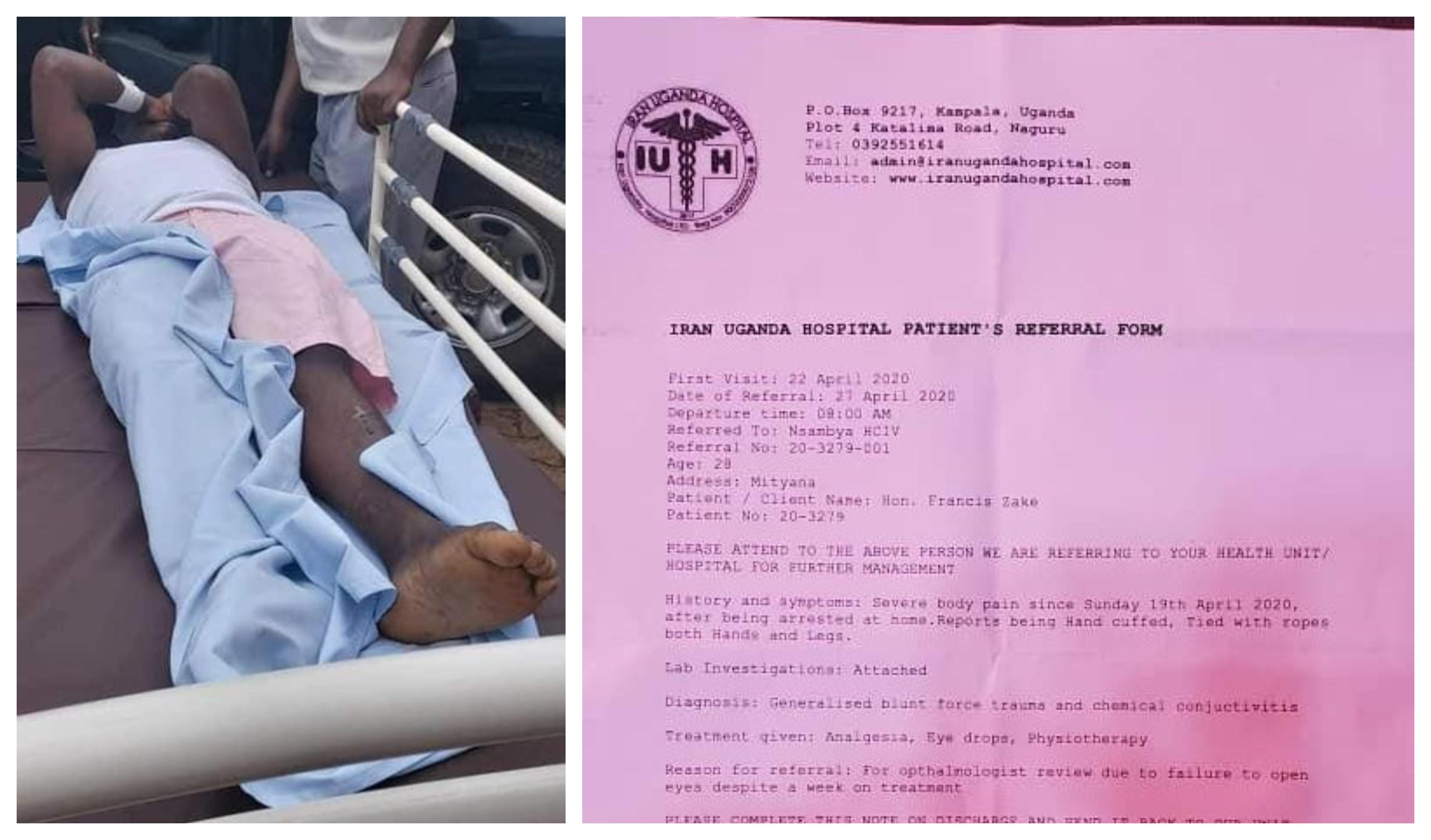 Mityana Municipality Member of Parliament Francis Zaake was sprayed chemicals in his eyes and suffered blunt trauma while in Police custody, a medical report by the Iran Uganda Hospital has revealed.
Zaake who was picked up by security forces on Sunday April 19th for distributing food relief to his constituents against the Presidential directive on the same has been under incarceration at the Police Special Investigations Unit (SIU) in Kireka, Kampala.
Charged with attempted murder, the legislator on Monday appeared before the Mityana Magistrate Court for mention of his case.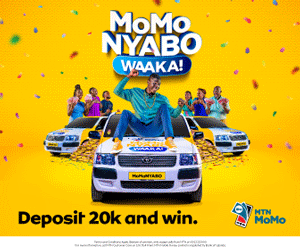 According to the situation that the legislator was in, Magistrate Alias Kakooza ruled that he wasn't fit to for the proceedings to take place since he could barely stand on his own. He would later allow him to seek medical attention.
Social Media images showed the legislator in a very bad state with visible physical injuries on his legs and red eyes.
Medical Report
After prior examination, a diagnosis by the Iran Uganda Hospital said that Mr. Zaake suffered "Generalised blunt force trauma and chemical conjunctivitis."
Blunt force trauma, is an injury to the body caused by forceful impact, injury, or physical attack with a dull object or surface. It is in contrast to penetrating trauma, in which an object or surface pierces the body, causing an open wound.
Blunt trauma is the initial trauma, from which develops more specific types such as contusions, abrasions, lacerations, internal hemorrhages, and/or bone fractures.
Chemical conjunctivitis, also known as pink eye is caused by getting smoke, liquids, fumes, or chemicals in the eye. It is at times like this that a safety shower and eyewash unit are needed in case of emergencies so that those affected can be seen to right away. They may want to check if they are able to import a piece of equipment like this to keep on hand for all manner of incidents.
The report further details that the legislator has had a history and symptoms of "severe body pain since Sunday 19th April 2020 after being arrested at home. Reports being handcuffed, tied with ropes both hands and legs."
It's against this basis that opposition politicians have come out to lash at the government and Uganda Police in particular, accusing them of torturing a Member of Parliament.
Accusations of Torture
Presidential hopeful and leader of the People Power pressure group Robert Ssentamu Kyagulanyi has blamed security forces for "brutalizing" Mr. Zaake.
"MP Francis Zaake! Brutally arrested over a week ago. Severely brutalised and kept under illegal detention! Here's the medical referral- still unable to see after chemicals were sprayed in his eyes! Not even violations to this level will silence our demand for FREEDOM!" Kyagulanyi tweeted.
Jinja Municipality East Member of Parliament Paul Mwiru who is also a staunch member of the People Power pressure group told court that he saw Zaake while he was still detained at the SIU.
"I couldn't believe the sight before me as two police officers lifted the Applicant [Zaake] into the SIU Commandant's office. The Applicant was visibly frail.," Mr. Mwiru said.
"His face was badly bruised. His shirt was torn to threads. His joints were swollen. Bits of flesh hang off his chest as though someone had attempted to randomly pluck them out with a fork but stopped midway. He couldn't see. He couldn't stand," he added.
Police Speaks Out
Despite the numerous accusations of torture and brutalization, Police maintains that Mr. Zaake is in a stable state.
"An examination was conducted by the Uganda Police Medical team in the presence of his Lawyers, personal Doctors as well as his dear wife, where by the team unanimously agreed of some treatment to be extended to him."
"Hon. Zaake is currently undergoing treatment at Iran –Uganda Hospital Naguru and he is very conscious and in stable conditions," Police said in a statement released last week.
Comments
comments