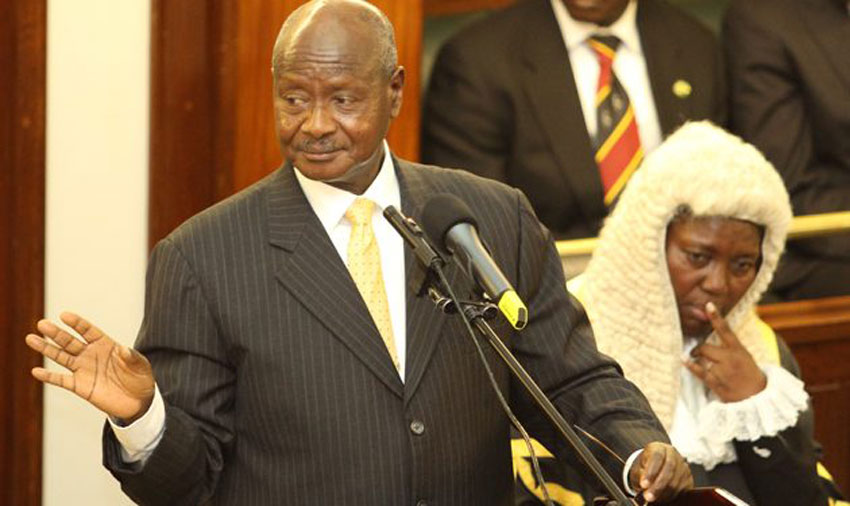 Members of Parliament on Tuesday moved a motion to hail President Museveni for a job well done in fighting coronavirus in Uganda.
The motion was moved by Kole North Member of Parliament, Bonny Okello and it was seconded by many NRM leaning MPs. Okello said that the President should be appreciated because almost half of the confirmed cases have recovered.
The MPs also highlighted the fact that there is no single death yet which the MPs say is because of Museveni's leadership.
Opposition MPs, however, did not second the motion. A number of them including, Bobi Wine, Allan Ssewanyana and Betty Nambooze walked out of parliament in protest.
Kilak Member of Parliament Gilbert Olanya suggested that the Speaker of Parliament Rebecca Kadaga is added to the motion as she has, according, to him done a great job.
Olanya's suggestion was shot down by many NRM MPs.
This new motion comes only a few days after the MPs tabled a motion of displeasure against the President. The MPs were not pleased with the President's remarks on the Covid money allocated to parliament.
During one of his addresses, the President said the MPs had thrown themselves into a trap by allocating themselves money when the country is in a crisis.
Museveni described the act as morally reprehensible and advised MPs to either donate the money to their respect district taskforce teams or refund it to the parliament. Many have since heeded to the call, although Kadaga had insisted that the MPs follow guidelines offered by parliament.
Kadaga cried foul and said the institution she heads was under attack from the Executive and Judiciary.
Comments
comments