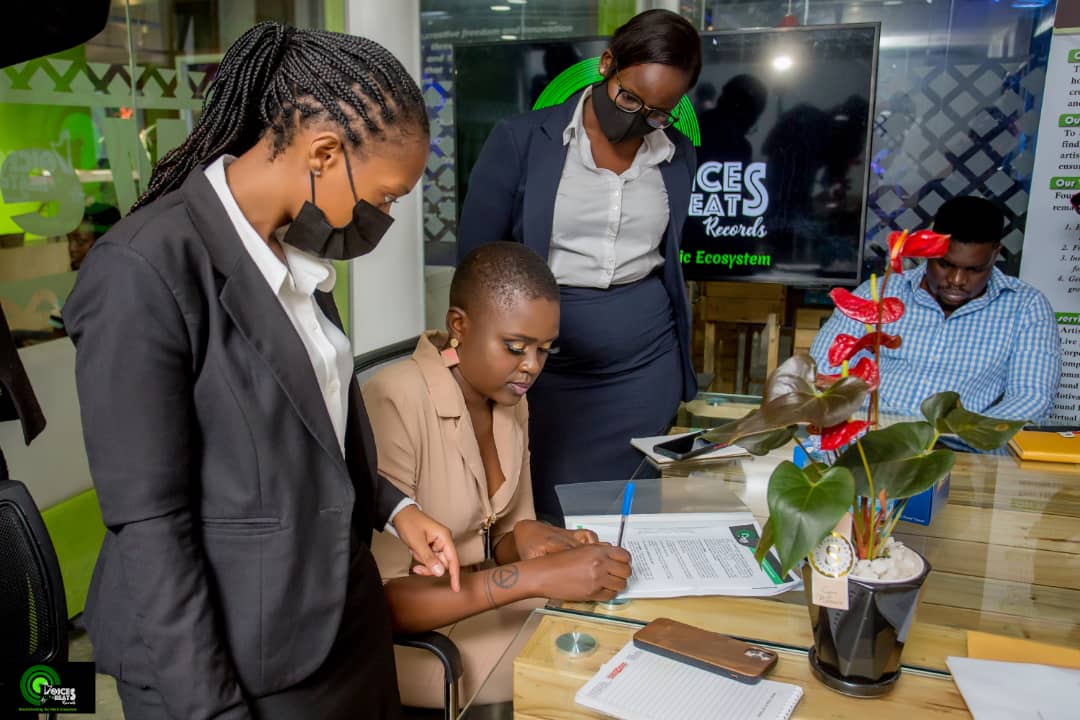 Voices and Beats Records has signed a new artiste to its music family. Their latest signing, Ms. Apio Moro, who will go by the stage name, Amoro, is a talented Ugandan female artiste, who brings with her a vast expertise in the genres of Afro beat and Zouk.
While addressing guests at the signing, the label's Executive Director, Ms. Carol Flower had this to say;
"I am happy to witness the growth in our family, as we will be signing our very first female artiste. I would like to take this opportunity to congratulate Amoro on having met and in some aspects exceeded the expectations of our board, and she joins us as another talent for this label. She is a talented and charismatic lady, who fits in perfectly with our mission of bringing something fresh and new to the music industry in Uganda and beyond, which clearly resonates in our slogan of revolutionizing the music eco system."
Upon the signing of her new contract with the label, Ms. Apio stated that she was extremely grateful to be a part of the Voices & Beats Records Family.
"I look forward to what the future holds and I believe this is the beginning of bigger and better things for us all," she said.
Mr. James ARYAM, the acting Chairperson of the B.O.D said he was happy for Amoro having been identified and accepted to the Label, and tasked both the artiste and the label with working hard towards achieving their common goals.
"We shall commit to professionalism and respect of all our members, so as to realize the full potential of every individual we work with," he added.
Voices & Beats Records is a Ugandan based Record Label and Production House, whose strategic goal is to revolutionize and professionalize Uganda's entertainment industry.
Voices & Beats Records also aims at bridging the wider gap between the mainstream and gospel artists in the Ugandan entertainment industry. Therefore, we sign artistes from both sects and effectively manage them under the same label.
The signed Artistes are supported throughout the release cycle (either the entire cycle – from recording to marketing or only a specific portion of it this cycle, which is also known as a licensing deal.
Comments
comments