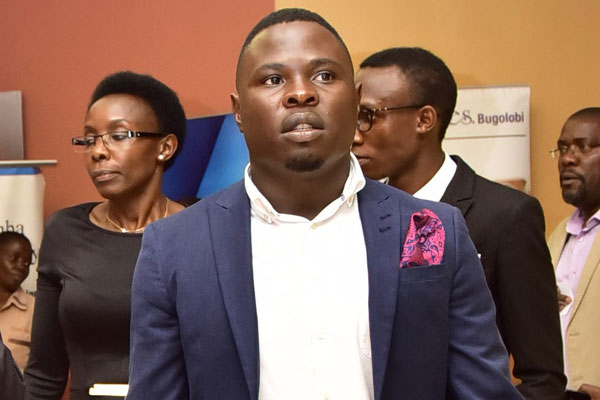 The Mityana Municipality MP Francis Zaake has protested the delayed ruling in the case in which he sued the government and eight police officers seeking compensation for torture.
Zaake who was on Tuesday afternoon at the High Court Civil Division together with his lawyer Eron Kiiza and scores of his supporters said it was unfair for the ruling not to be given after three adjournments by Justice Esta Nambayo.
The delayed ruling arises from the case in which Zaake sued the government and eight police officers for the torture inflicted on him when he was picked from his residence in Mityana municipality on April 19, 2020 for allegedly endangering the lives of the people by distributing food in violation of the covid-19 guidelines.
The eight police officers he sued are; Wamala Region Police Commander Bob Kagarura, Mityana District Police Commander Alex Mwiine and Elly Womanya, the former commandant of the police's Special Investigation Unit and Musa Walugembe, the officer in charge of the Special Investigations Unit.
Others are; Abel Kandiho, the commander of the Chieftaincy of Military Intelligence, Hamdan Twesigye and Haruna Mulungi Nsamba.
Zaake sought to be compensated with an unspecified amount of money saying he was detained for more than the mandatory 48 hours at the Police Special Investigations Unit in Kireka where he was allegedly tortured which affected his eyesight and right leg.
But the government wanted the case dismissed on grounds that it has no merit since Zaake was arrested for flouting COVID 19 guidelines and was neither tortured nor taken to any military detention.
Evidence before the court shows that Zaake was later released on April 29th 2020 on police bond having spent ten days both in police custody and in the hospital where he was being guarded by security personnel.
The same charges related to flouting COVID-19 guidelines were instituted against Zaake at that time in Mityana Magistrates court.
But in July 2020, the Directorate of Public Prosecutions-DPP withdrew the criminal charges against him a few months he had demanded compensation in the High Court and has since then waited for judgement but in vain.
According to Zaake's lawyer Eron Kiiza, the judgement was first fixed for January 2021, and later on, April 16th 2021 and Tuesday was the third time they are being told that the Judgement is not ready.
But after being notified that the ruling was not ready, Zaake said he was not happy because ever since the case started, he has allegedly been inhumanely treated and to date; he is still being haunted.
He added that Justice Nambayo has not even talked to them save for sending her the clerk to inform them that the ruling is not ready.
—————————-
By: URN
Comments
comments