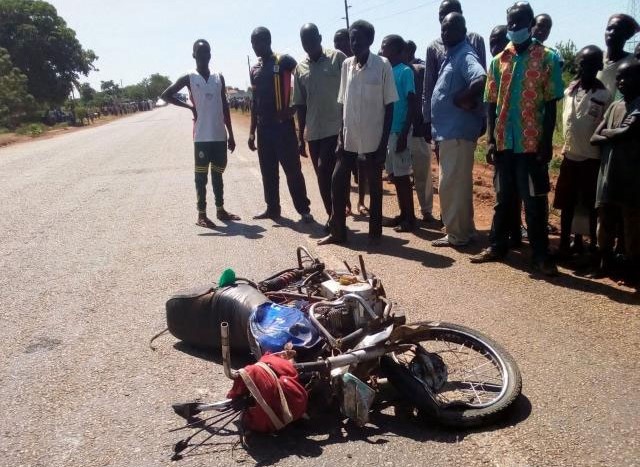 Two UPDF soldiers were among four that have perished in an accident along Soroti- Mbale road. The accident occurred on Monday afternoon around Opuya Electricity Sub Station, about five kilometers from the heart of Soroti City and involved a Gateway Bus Reg. No. UAM 302L and motorcycle No. UDT 031L.
Two victims of the accident have been identified as Julius Abura and John Robert Ogiraileng, both residents of Aliakamer in Katakwi district. The other is a Boda- boda cyclist only identified as Ejoku, a resident of Awoja in Aukot Sub County, Soroti district. The identity of the fourth victim wasn't readily available by the time of filing this story.

Peter Ekellot, a friend who rushed to the scene of the accident, says that Abura and Ogiraileng are UPDF soldiers attached to Magoro in Katakwi district. He explains that the duo had travelled to Soroti through Omatenga- Okokorio ferry connecting Katakwi and Kumi districts through Lake Bisina to withdraw their salaries in Soroti.
"We had just talked on the phone when they were leaving Soroti and a few minutes later, somebody (the police) called me saying that they had been involved in an accident. I thought they were just injured but reaching here, it's unimaginable", he said. Oscar Ageca, the East Kyoga Regional Police Spokesman says preliminary findings show put the accident on overspeeding and reckless driving.
Joseph Eriau, a butcher around the center where the accident happened, says the over-speeding bus knocked the riders from behind. He explains that the driver of the bus seems to have lost control when he saw a taxi approaching from the front.
Last night, another accident claimed the life of a passenger, Paul Aogon who was being carried on a motorcycle UEA 230W by Tom Ouchul. The accident was caused by a trailer carrying cement registration number UAL970/UAU995Y at Agogomit Village, Mukura Sub County in Ngora district, near Akello Oils.
More than five accidents have been registered at the same spots since January this year.
——————–
By: URN
Comments
comments