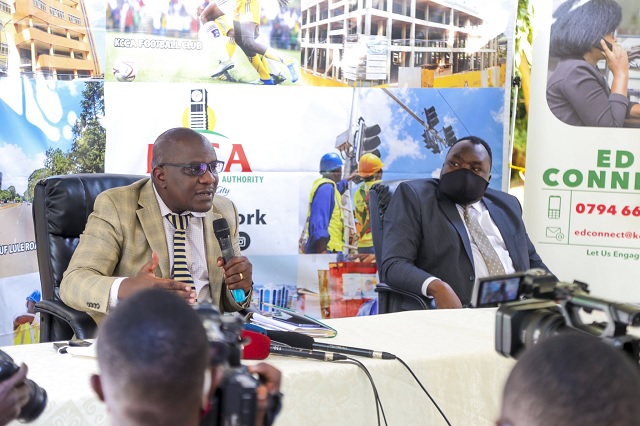 Kampala Capital City Authority-KCCA councillors on Thursday put the Deputy Director of KCCA Eng. David Luyimbazi and the Director Gender Esau Galukande, on the spot over the mismanagement of city markets.
Deputy Lord Mayor Doreen Nyanjura presented a report about the management of public markets in Kampala in which she highlighted the plight of vendors.
According to Nyanjura, vendors in Nakasero still pay for electricity, water, garbage collection, and toilet fees even when in 2020, President Museveni directed KCCA to repossess all public markets and suspend market fees.
At St. Balikuddembe or Owino market, Nyanjura noted that vendors are charged 90,000 Shillings for each truck that delivers produce and 100,000 Shillings per month. Those operating in open space pay 2,000 per day while stall operators pay 12,000 to 13,500 Shillings per month.
Nyanjura also reported that some vendors from Owino and Nakasero market accused the interim leadership of using security personnel to terrorize them.
Nyanjura also cited Busega market, where some leaders are selling stalls at 5 Million Shillings and also extorting money from the public.
The Speaker Zahara Luyirika instructed the Deputy Executive Director Eng. David Luyimbazi to explain why vendors were being subjected to fees that had been suspended by the President.
But Luyimbazi said he was not aware of any such fees adding that KCCA was paying for utilities and collection of garbage in the markets. He added that KCCA was spending more than 1.5 Billion Shillings annually on utilities in markets.
However, Luyirika and the councillors were not contented with Luyimbazi's explanation.
"Are you aware that KCCA is collecting money from vendors? Are you aware that vendors are paying for garbage collection?" asked Luyirika.
About harassment of vendors by security personnel allegedly backed by the Executive Director, the City Resident Commissioner Hussein Hud and the interim leadership in Owino and Nakasero markets, Eng Luyimbazi asked the Director Gender, Dr Esau Galukande to respond to the complaint, but he also declined.
Hakim Sawula, the Executive Secretary for Works says corruption among KCCA technical staff is causing chaos in the markets.
The Deputy Speaker of KCCA Nasur Masaba also blamed KCCA for failing to put in place a clear system to manage the markets. He said that there is a need to expedite the implementation of the KCCA Market Ordinance which was passed by the previous council.
The council resolved to institute investigations against the Executive Director and the other Directors. They also recommended that illegal fees collections stop immediately and the military deployed in markets including Owino and Nakasero be withdrawn.
Comments
comments