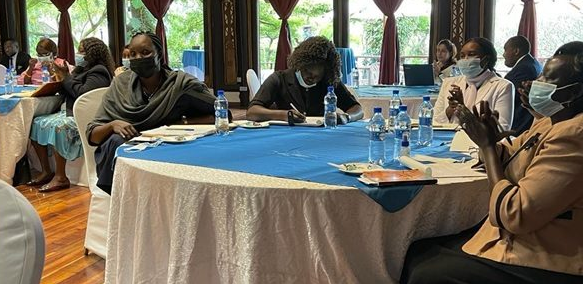 A cross-section of women representatives from the Revitalized Transitional National Legislative Assembly Monday commenced a five-day parliamentary exchange and learning visit to the Kenyan capital Nairobi to share experiences and learn skills from their counterparts there.
Speaking during the opening of the event, South Sudan's parliamentary affairs minister, Mary Mawai, said the women of South Sudan worked hard to get the 35 percent for women's affirmative action.
"Maybe you might have heard that we have 35 percent affirmative action for women in South Sudan, it was not just given to them, they worked had to deserve it, during the war women contributed a lot," Minister Mawai said.
She added: "They were taking care of the families and making some shelters to accommodate them, providing health services in terms of nursing wounded soldiers and even cultivating to get food, and mobilizing food to send to our soldiers."
The parliamentary affairs minister explained that when the Comprehensive Peace Agreement (CPA) was being negotiated in 2005, women pushed for affirmative action to be enshrined in the constitution and by then it was 25 percent.
"When they negotiated peace in 2005, that time women pushed for their percentage to be enshrined in the constitution and it was 25 percent," Mawai said. "As conflicts continued in South Sudan, our contribution was also there for peace implementation and as such, we have added another percentage, we are now at 35 percent for women affirmative action."
For his part, the undersecretary in the parliamentary affairs ministry, Kutiyote James Francis, appreciated the Kenyan government for allowing them to learn and that the acquired knowledge will be put to good use back in South Sudan.
"For us in South Sudan, we come from a very challenging background already and we want to learn, we want to have ideas, we want to have that knowledge that can help transform the system into a very strong system that can help build the country because we rely on our friend across the region," Kutiyote said.
UN Women's program officer for peace and security, Shukuria Syed, said that her organization is always there to empower women in South Sudan for good governance.
"UN Women is always ready to empower women leaders in South Sudan for good governance and I request my colleagues to take this opportunity very seriously so that we can learn," Syed said. "I will be there with you to help you implement whatever we take from here."
One of the participants, Monica Juan, said appreciated UN Women and CEPO for the workshop and that she has learned the procedures to be followed by parliamentarians.
"We are supposed to know more about the system of the government and also about our rights as a women member of parliament," Juan said.
The workshop was organized by UN Women and facilitated by CEPO.
By: Radio Tamazuj
Comments
comments