Moments after midfielder Bobosi Byaruhanga was announced the winner of the Airtel-FUFA Awards best male player of the year 2021, there emerged a video clip where then a young Byaruhanga appeared in an interview with Urban Television boldly asserting how he wanted to be the first Mufumbira to play for the Uganda Cranes.
This quote is a reflection of talk that 'dreamers are achievers and achievers are dreamers'.
Byaruhanga had been dreaming since his toddler stage to play football to the biggest stages.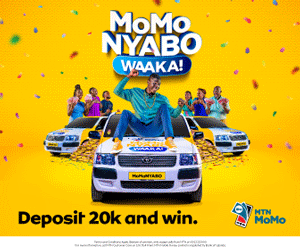 He now plays for the StarTimes Uganda Premier League entity Vipers Sports Club and a regular in the Uganda Cranes starting team during the FIFA World Cup 2022 Qualifiers where he played all the six games.
Byaruhanga also guided the Uganda U-20 team (Hippos) to the AFCON U20 final (against Ghana) in Mauritania.
He was also voted the best midfielder for the Stanbic Uganda Cup 2021/2022 season as Vipers humbled BUL 8-1 in the final played at the FUFA Technical Centre, Njeru and climaxed the incredible season with the Airtel FUFA Male Player of year 2021 gong, earning a brand new Subaru Impreza.
In this interview, Bobosi shares his thoughts after a wonderful year of his career.
How does it feel being named the best male player of the year and owning a brand new Subaru Impreza?
It is a great feeling; can you imagine a boy from Kisoro emerged the best male player of the year from all the players in Uganda.
A dreamer is living his dream.
Who else got excited for you after winning?
My mother was on cloud nine plus the entire family, she never expected it. She has been around since time zero and always wishes me the best. The people of Kisoro where I come from were too super excited and my manager Steven Mulindwa who always encouraged me.
What kept you motivated?
I had a goal to achieve, though I haven't reached there but emerging the best shows that I am on the right track.
Winning and success normally come with the overwhelming pressure to prove. Many fail to handle but how are you planning for your new status in football?
I cannot deny the prevailing pressure especially from those who doubted me. I am keeping my calm though there is need to prove that I was the deserving winner. I spend sleepless nights thinking of how to get better because the challenge I have is working harder than before not to let down those who entrusted me with the award and my fans who trust and expect more from me.
In case you were given a platform to speak to the younger ones who would love to get to your level, what would you tell them?
I tell them to believe in themselves, work harder, discipline on and off the pitch plus having dreams to chase. I also tell them to have trust in God and keep praying plus never to lose hope amidst challenges because nothing comes on a silver plate.
Any last words from you?
I can not leave without thanking the Federation of Uganda Football Associations (FUFA) led by Engineer Moses Magogo for the structures like the FUFA Junior League, supporting the National Junior teams because it where I started and now I am here.
The Vipers Sports Club president (Dr Lawrence Mulindwa) has also been crucial for the unwavering support, my manager Steven Mulindwa.
Last by not least, my Beautiful mother and family who have stood with me through thick and thin as well as the teammates at Vipers and national teams (U-20 and Uganda Cranes) as well as my dear fans.
Uganda Hippos Team that started against Burkina Faso in the AFCON U-20 finals (L-R: Back Row- Jack Komakech, Musa Ramathan, Richard Basangwa, Sam ssenyonjo, Kenneth Semakula and Gavin Kizito (C), Front Row- Azizi Kayondo, Isma Mugulusi, Steven Sserwadda, Ivan Asaba and Bobosi Byaruhanga
Comments
comments