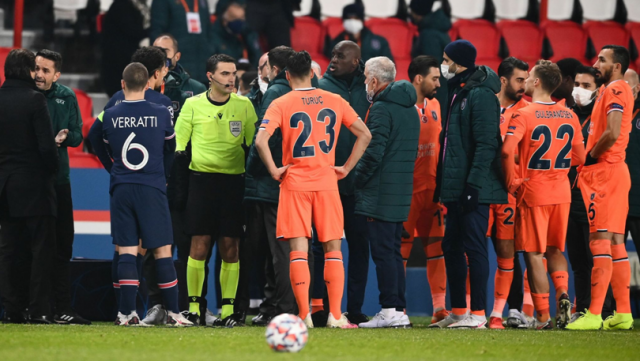 The 8th of December 2020 was supposed to offer some excellent UEFA Champions League matches. Right now, a great betting company in Uganda is 1xbet.ug and it allows its members to wager on all events from the UCL.
One of the matches that was supposed to take place on that day was between PSG and Istanbul Başakşehir. These squads were going to play a seemingly interesting match at the Parc des Princes. However, instead of being remembered for being an excellent game, it is better remembered for a disgraceful situation. The 1xBet Uganda website is a great betting company in the country that features all matches from PSG and Başakşehir.
Harsh vocabulary
It was the 13th minute of the first half. PSG was clearly dominating the Turkish side. It seemed that some members of the Istanbul Başakşehir coaching staff were not happy with the job made by Romanian Referee Ovidiu Hațegan. For this reason, they started to protest many of his decisions. While waiting for some refereeing controversies, try some of the great slots available at the 1xbet.ug/slots/ website.
Former Cameroonian striker Pierre Achille Webó was the assistant coach of Başakşehir on that day. It seemed that he was protesting many of the decisions of the referee. Hațegan had apparently heard the strong protest coming from the bench of the Turkish team. However, he wasn't sure who was protesting exactly.
Fourth official Sebastian Coltescu signaled to the referee who was protesting his decisions, pointing at Webó. However, allegedly Coltescu used a very derogatory word to indicate Hațegan who needed to be shown a red card. This immediately sparked a huge controversy. Before the next red card, you can try great games at the 1xBet casino.
Leaving the field
Webó immediately went to face the fourth official, asking him why he used that word to refer to him. Apparently, Coltescu denied everything. However, the damage was already done. Istanbul Başakşehir decided to leave the field, and they would not return while Coltescu was still there. To wager on Başakşehir and other Turkish teams, you can use the bookmaker 1xBet mobile application, which is available for free.
PSG captain Marquinhos also announced that his team was leaving the field in solidarity with Webó.
It was decided to continue the match on the 9th of December 2020. All referees were replaced with new ones from The Netherlands. The new team was led by main official Danny Makkelie. The French team won 5-1, and the goals were scored by:
Neymar;
Kylian Mbappé;
and Mehmet Topal.
Hopefully those incidents will not be repeated in the future. The great mobile application developed by the 1xBet bookmaker can be used for wagering on the UEFA Champions League.
Disclaimer
1XBET is regulated by the Lotteries and Gaming Regulatory Board. Betting is addictive and can be psychologically harmful 25+
Comments
comments