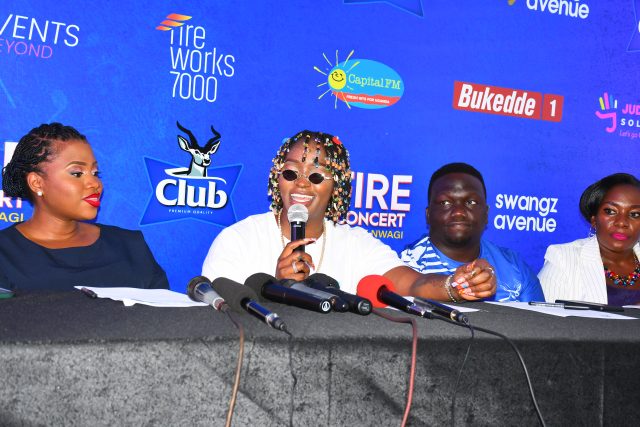 Nile Breweries Limited – NBL, the brewers of Club Pilsener have announced their sponsorship of songstress Winnie Nakanwagi better known as Winnie Nwagi in her upcoming concert dubbed the Fire Concert. The sponsorship package which will include cash, advertising and other logistical support was announced at a Press Conference held Monday 29th August, 2022 at Swangz Avenue offices, Industrial Area.
"As Club Pilsener, Music is in our DNA and we know that music is one of the biggest passion points for Ugandans. We are always happy to be part of musical experiences because it's through such that we get to interact with our consumers and share good vibes with them," said Joel Galla, NBL Brand Manager for Club and Premiums.
Winnie Nwagi has been a key figure in Uganda's entertainment industry over time; releasing some big bangers that have seen her rise to take her seat among the top Ugandan female musicians. She has created some of the biggest Club anthems in the country which include Musawo, Malaika, Kano Koze, Matala, Magic, Fire Dancer among others. Fire Dancer would go on to shape the nickname Fire Baby which she was given by her fans and eventually, the Fire Concert.
"Ugandan music in particular has grown so big and it is artistes like Winnie Nwagi working with able management at Swangz Avenue that have played a big role in propelling her career further. We have previously worked with Winnie [ClubBeatzAtHome] and we have no doubt that she will deliver an awesome performance come September 9th," he added.
Swangz Avenue, the artiste's managers thanked Nile Breweries Limited for choosing to support Winnie Nwagi saying that it was a good decision and that they wouldn't regret it.
"Like the millennials say, 'game recognizes game'. Winnie Nwagi has put a lot of work in her music and it's exciting to see that brands like Club Pilsener are recognizing her effort and choosing to give her a push," said Benon Mugumbya, Swangz Avenue's Director.
"As a team, we have been preparing for this concert for a long time and we would like to assure Winnie Nwagi's fans out there that this will be more than just an ordinary concert, it will be an experience that you will live to talk about," he added.
Winnie Nwagi's vocal prowess and 'fire' dance moves are an addition to what makes her one dope performer that any reveller would want to watch on stage. This is the first time Winnie Nwagi is staging a concert since the lifting of the two-year lockdown that was imposed due to the Covid19 outbreak. It is also her first time to stage a stand-alone concert at the Lugogo Cricket Oval.
Revellers will part with 20k for General Access, 100k for VIP and 2.5m for a table of eight people.
Comments
comments