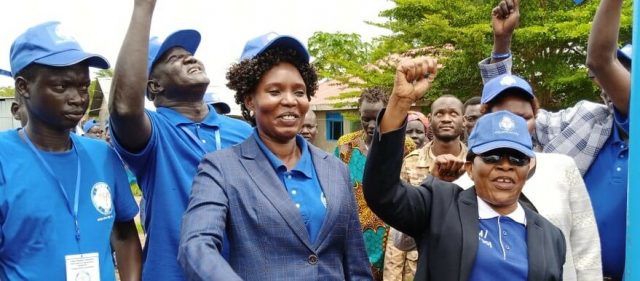 South Sudan's main opposition group, Sudan People's Liberation Movement-In Opposition (SPLM-IO), on Saturday launched its secretariat in the Jonglei State capital, Bor.
The state party chairperson, Amer Ateny Alier, said after the inauguration ceremony that they established the secretariat to signal a transition from an armed movement to a political party.
"The opening of SPLM-IO Secretariat in Bor for all the members and those wishing to join signifies that the peace deal is on the right track, "Amer said. "Across the country's 10 states, all the former rebel groups which are now part of the government are transitioning into political parties."
Amer pointed out that the state secretariat will enable them to execute duties. "As a party Liberation Council, we will hold a meeting. And from Monday, registration for party members will start. Our doors are opened to all citizens in Jonglei. We also hopefully plan to open offices in every county pf the state," she said.
For his part, Michael Bol, the state party secretary-general, said the secretariat puts them in a better position to deliver.
"As a people's movement, launching this secretariat will enable us to deliver services to our people," Bol said. "The service is peace; we want peace to reach everyone in Jonglei state so that there is harmony. When there is peace, there is development as evidenced by the Juba-Bor Highway being constructed now."
John Gatluak, a resident of Bor, welcomed the move by the SPLM-IO party, saying they are now optimistic that there will be no return to war.
"When there is an office like this, hope will be cultivated into people so people in refugee camps will be able to come back to participate in elections," Gatluak said.
SPLM/A-IO was formed after a civil war, which started on December 15, 2013, and is led by First Vice President Riek Machar.
Comments
comments