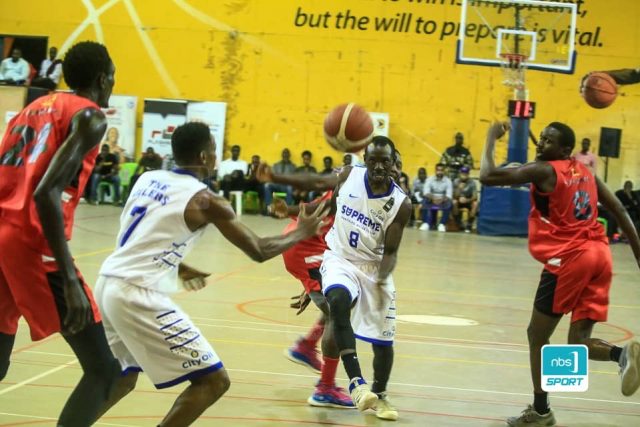 Both the Men and Women's National Basketball League titles have gone to the wire after UCU Lady Canons and Nam Blazers forced decisive game sevens.
Its strong to note that both Oilers and JKL led 3-1 at one stage in these best of seven finals series.
The Blazers showed character on Sunday to win 76-71 at a sale-out Lugogo in an ill-fated affair that saw Francis Azolibe (City Oilers) and Amisi 'Carmelo' Saidi (Nam Blazers) ejected (sent off) after a brawl in the last quarter.
Carmelo scored a game high 27 points on 8-of-18 shooting from the field, Chris Omanye had a rare double double of 15 points and 10 rebounds while Paul Odongo had 14 in an impressive showing.
It's now work cut out for Oilers whose seven-season winning streak is on the line ahead of game seven that will be played on Friday.
The Oilers, if they are to defend their legacy, have to do it without influential figure in Jimmy Enabu who got injured in Game four.
James Okello (17), Ivan Muhwezi (13) and Tonny Drilleba (11) scored in double digits for the Oilers but it proved not enough.
After a frenetic first quarter that saw Oilers take a slim 22-20 first quarter, the Blazers started to dig deep and eventually tied the game 41-41 at halftime.
They continued their ascendancy, as Oilers struggled at both ends of the court, to take a two-point advantage going into the last quarter.
And Oilers failed to thread a run, and Blazers' reward was a shot at the title in Game 7 where the winner takes it all.
City Oilers made 23 turnovers, untypical of their style, despite out-rebounding the Blazers 50-39.
And it promises to be a huge task awaiting Oilers in game 7 as Blazers will be expected to come out all guns blazing in the decider.
The final buzzer was greeted with wild celebrations from Blazers fans, who now have more hope that the 'Dictator's time is up.'
In the Women's fixture, UCU recovered from a 14-point lead to turn tables against JKL Lady Dolphins to send the title to a decider.
JKL, who have won the title for the last two seasons, led 33-19 at halftime before going ice cold in the second half of the game.
Millicent Otieno had 20 points, Bridget Aber and Rose Akon added 15 points each to help UCU Lady Canons.
Evelyn Nakiyinji had 15 points in a losing effort for the Last Dolphins.
Comments
comments