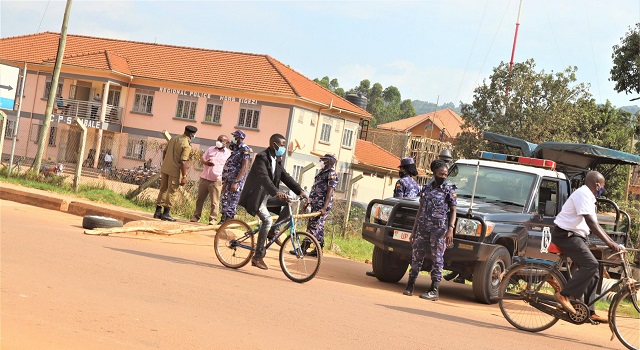 The Inspector General of Police, Martin Ochola, has responded to President Yoweri Museveni's condemnation of roadblocks delaying movement of goods, by directing police commanders to ensure no checkpoints are amounted on any road across the country.
Museveni's concern over roadblocks frustrating faster movement of goods and causing unnecessary traffic congestion was revealed three days ago by the Prime Minister, Robinah Nabbanja, while meeting the presidential chief executive officers' forum in Kampala.
Nabbanja said Museveni had told her to coordinate with commanders of the relevant security agencies to ensure roadblocks are removed so that the citizens and business trucks can have uninconvenienced movement.
In response, Ochola has directed that all roadblocks should be removed and urged citizens to report any police officer who will be found manning any checkpoints so that commanders can take action.
"Following his excellency the president's directive that there are many roadblocks in the country which jeopardize the free movement of goods and services among the East African Community members state, you are ordered to with immediate effect to remove all roadblocks and checkpoints including those of Fika Salama," Ochola directive reads.
Police introduced Fika Salama checkpoints during the times of Gen Edward Kale Kayihura as IGP when road carnage became rampant especially on Kampala-Masaka, Mityana-Kassanda-Mubende and Gulu highways.
Some of these checkpoints have been there for almost six years and have helped to minimize road crashes especially on Masaka road. In 2016 when numerous traffic checkpoints under the operation codenamed Fika Salama were mounted, Masaka road was recording over 200 deaths every six months.
Security agencies especially Police and Army intensified roadblocks during Uganda's two years of partial and total lockdowns intended to control the spread of Covid19. Many of these roadblocks were maintained even after the country resumed full operations.
In the past three months, there have been criminal roadblocks mounted by armed men donning military and police uniforms and a number of people have been robbed clean. Police have in some cases arrested soldiers manning illegal roadblocks where people have been robbed.
Ochola in his new orders has said highway patrollers that include motorized and foot personnel should be in charge. Police commanders have been directed to focus on dark spots to prevent crime.
"The duty of securing major highways and roads should remain with patrollers, foot and motorized, especially the integrated highway patrol system (IHPC); remain vigilant in dark spot areas for crime prevention, deterrence against law breakers and continue with intelligence led operations," Ochola states.
The order to remove roadblocks has come at the time when the public could no longer tell which is a genuine checkpoint since even night and day robbers have been appearing wearing uniforms of security forces and armed with sophisticated weapons.
Comments
comments