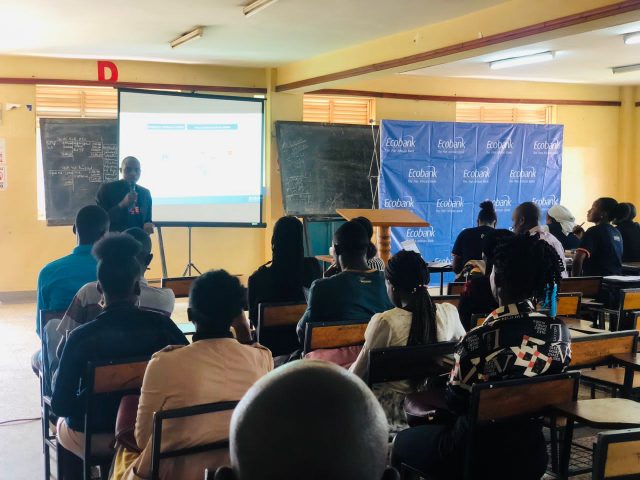 Every year, Ecobank Uganda celebrates Ecobank Day, this day is marked to give back to the communities within which the bank continued to work and grow.
This year, the bank used the opportunity to partner with the Young Men Christian Association Comprehensive Institution (YMCA) to discuss with students about financial literacy. This was in line with the 2022 theme of financial inclusion.
While addressing the students, Manager Direct Banking Kenneth Arinaitwe said "Do not borrow money for Luxury, borrow money for business. Borrow money which you can pay back as you are making profits."
He further advised the students about financial discipline, "No salary increment can guarantee financial freedom, what can guarantee your financial freedom is your financial discipline. Do not spend money unnecessarily on things that will not financially benefit you, save it for future use."
Ecobank pledged to fill the financial gap among the youths and for every Ugandan through educating young people on financial literacy. This will propagate financial independence and improve their capacity to run their businesses as well.
The bank assured the youths that they provide numerous internship opportunities as well as have the Ellevate Program that supports women in business. Being a Pan African bank with a focus on growing the continent, Ecobank recognizes the need to grow the financial muscle of Uganda from the ground, which is through excellence of the youth. That is why many different products being worked on to empower the youth to #GoForMore.
In his remarks, YMCA Wandegeya's Head of Business Studies called upon Ecobank to teach financial Literacy to the youths on an annual basis. He was pleased with the bank and thanked them for the great work done.
Comments
comments