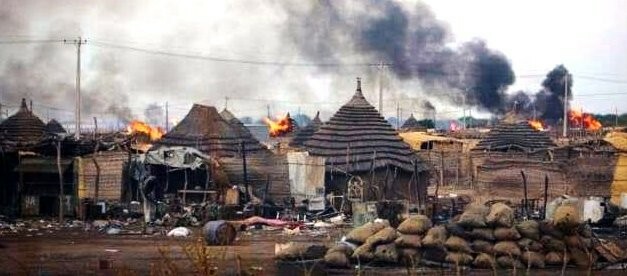 At least 13 people were killed and five others wounded in an attack in the Abyei region that's disputed between South Sudan and Sudan, the UN peacekeeping force said on Tuesday.
"A combined armed group of Nuer and Twic Dinka launched an early morning attack on the Rumamer village, 15 kilometres south of Abyei Box, killing thirteen persons and injuring five others (all Ngok Dinkas) while some 27 houses in the village were burnt down," the United Nations Interim Security Forces for Abyei (UNISFA) said in a statement.
The peacekeeping force said the combined attack took place on Monday morning.
It disclosed that the attack was coordinated by approximately 200 well-armed herders from the Nuer and Twic Dinka communities but was, however, "effectively contained due to the vigilance and swift action" of UNISFA troops on the ground.
"UNISFA troops are currently patrolling the area to locate the remaining attackers and prevent any further attacks. They are also protecting the Rumamer village and facilitating the return of local civilians who fled their homes. The troops have been put on high alert in the general area where the incident occurred," the statement read in part.
UNISFA said an investigation has been launched to uncover the circumstances that led to the attack and that troop presence has been enhanced in the Rumamer village and area domination patrols are being conducted in neighbouring areas to block and seize potential armed groups.
UNISFA's OIC, Acting Head of Mission and Force Commander Brigadier General Abu Syed Mohammod Bakir, has strongly condemned the attack, saying it can only contribute to the tension and chances of renewed violence in the area.
General Abu Syed Mohammod Bakir calls on all stakeholders to support UNISFA's peace initiative as a means of easing tension in the area, assuring that UNISFA is fully committed to the safety and security of the people in the Abyei area and will continue to prioritize the protection of civilians, in line with its mandate.
Oil-rich Abyei has been contested since South Sudan gained independence in July 2011. The two countries are yet to agree on the mapping of the border.
UNISFA was deployed in June 2011 to protect civilians under imminent threat of physical violence and protect the area from incursions by armed groups.
Comments
comments