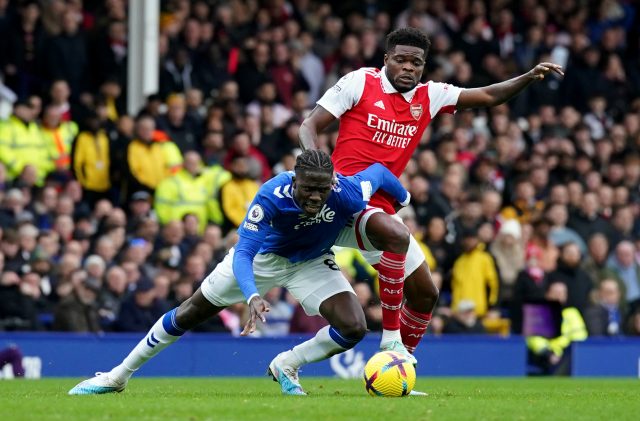 SuperSport viewers on DStv and GOtv can look forward to Round 23 action from the 2022-23 Premier League, with matches scheduled to run from Saturday 11 to Monday 13 February 2023.
DStv and GOtv is the only true home of football in Africa, offering a range and depth of action that no other rival can match – it's literally 'Unbeatable Football'! If you're going to spend your money on something, it may as well be on the best football in the world.
The pick of Premier League matches in this round is the meeting of Liverpool and Everton at Anfield on Monday 13 February for the latest edition of the Merseyside derby.
This is a crunch clash for both the Reds and the Toffees, with the former looking to boost their chances of a top-four finish, while the latter are fighting for their lives in the English top flight.
"I know we have to do the good things even better and longer, in an ideal world for the full 95 or 100 minutes and then we are there. We will go in that direction, I am sure," said Liverpool manager Jurgen Klopp of his side's striving for improvement.
The weekend's action gets underway early on Saturday 11 February with a derby between West Ham United and Chelsea at the London Stadium, with the Hammers and the Blues both chasing a morale-boosting win.
"We also have to understand the transition we've all been through and all that brings. I think the way the team stuck together through a period where there was a lot of criticism, noise, pressure, we stayed together and kept trying to improve," said Chelsea boss Graham Potter.
"Then you get yourself to a situation where some injured players are coming back, we've made signings that freshen the group up, and then there is more competition in the team. This is what you need at Chelsea."
The round features a further London derby, as title-chasing Arsenal host Brentford, as well as key clashes for Manchester United and Manchester City, away to Leeds United and at home to Aston Villa respectively.
In addition, one of the league's most curious but fierce rivalries is the A23/M23 derby between Crystal Palace and Brighton & Hove Albion – with the Seagulls' Roberto De Zerbi urging his side to further step up their game and push for a higher finish.
"For us, it is a signal for the second part of the season," said the Italian tactician. "I think we are able to fight for a high position. I watched the games of Brighton and the other teams and I think we have to try. The players now are sad for the result but it is important because they wanted to win."
No rival can compete with SuperSport's coverage. Our viewers on DStv and GOtv enjoy an unrivalled selection of football from around the world!
Don't miss the best football action on SuperSport on DStv and GOtv. Visit www.dstv.com and www.gotvafrica.com to subscribe or upgrade, and join in on the excitement. And while you're on the move, you can stream matches on the DStv App.
Premier League broadcast details, 11-13 February 2023
All times CAT
Saturday 11 February
14:30: West Ham United v Chelsea – LIVE on SuperSport Premier League, SuperSport Maximo 1 and SuperSport Maximo 2
17:00: Arsenal v Brentford – LIVE on SuperSport Premier League and SuperSport Maximo 2
17:00: Crystal Palace v Brighton & Hove Albion – LIVE on SuperSport Variety 2
17:00: Fulham v Nottingham Forest – LIVE on SuperSport Variety 1 and SuperSport GOtv Football
17:00: Leicester City v Tottenham Hotspur – LIVE on SuperSport Variety 3 and SuperSport Maximo 1
17:00: Southampton v Wolverhampton Wanderers – LIVE on SuperSport OTT2 and SuperSport Motorsport
19:30: Bournemouth v Newcastle United – LIVE on SuperSport Premier League, SuperSport Maximo 1 and SuperSport Maximo 2
Sunday 12 February
16:00: Leeds United v Manchester United – LIVE on SuperSport Premier League, SuperSport Maximo 1 and SuperSport Maximo 2
18:30: Manchester City v Aston Villa – LIVE on SuperSport Premier League, SuperSport Maximo 1 and SuperSport Maximo 2
Monday 13 February
22:00: Liverpool v Everton – LIVE on SuperSport Premier League, SuperSport Maximo 1 and SuperSport Maximo 2