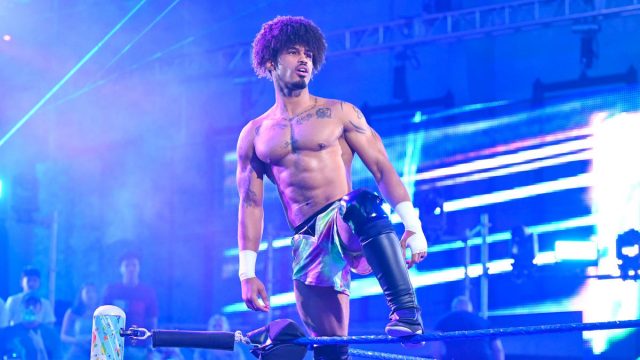 Fans of the WWE can gear up for another thrilling week of action on SuperSport, with live airings of the NXT, SmackDown and Raw shows running from Wednesday 8 to Tuesday 14 February 2023.
SuperSport is your #HomeOfSport and the only place to see all your favourites from the WWE Universe!
The action begins on the morning of Wednesday 8 February with WWE NXT Episode 707. Wes Lee's recent actions have raised eyebrows on the developmental brand, but he is unapologetic in his quest to become a fully-fledged WWE Superstar.
"I'll do whatever it takes to reach my goal," said Lee. "I have not thought for who I need to step on, who I need to punch in the face, who I need to kick in the groin… I don't care. Winning is all that matters. Forget honour, dignity, anything… just get the 'W' and keep on stepping!"
Saturday 11 February brings Episode 1225 of WWE SmackDown. Karrion Kross has taken aim at the legendary Rey Mysterio in recent weeks, and says he will not stop until he has put the 'luchador' in his place.
"Rey Mysterio is regarded as a legend, but in my time in Mexico I came up against many 'legends' who are now forgotten and cast aside on my path to greatness," said Kross. "It will be the same for him. The darkness of ignominy awaits him. Rey Mysterio and his legacy will be in my shadow from now and forever more."
Tuesday 14 February will feature Episode 1551 of WWE Raw. The ongoing rivalry between Bobby Lashley and Brock Lesnar is one of the pillars of the red brand in recent weeks, with 'The Beast' determined to get the better of 'The All Mighty'.
"Bobby Lashley, you flatter yourself thinking you can match me," said Lesnar. "You're one h*** of an athlete, I'll give you that, but still just human. And there's not a human on this earth I fear. Your time has come."
Now GOtv viewers can also enjoy some world-class WWE action every Wednesday evening on SuperSport GOtv Select3, with a past Pay-Per-View (17:00), WWE 205 (21:00) and a documentary (21:30).
No rival can compete with SuperSport's coverage. Our viewers on DStv have found their #HomeOfSport.
Don't miss out on all the WWE content on DStv. Visit www.dstv.com to subscribe or upgrade, and join in on the excitement. And while you're on the move, you can stream the action on the DStv App.
WWE weekly programmes broadcast details, 8-14 February 2023
All times CAT
Wednesday 8 February
03:00: WWE NXT Episode 707 – LIVE on SuperSport Variety 3, SuperSport Maximo 2 and WWE Channel 128
Saturday 11 February
03:00: WWE SmackDown Episode 1225 – LIVE on SuperSport Variety 3, SuperSport Maximo 2 and WWE Channel 128
Tuesday 14 February
03:00: WWE Raw Episode 1551 – LIVE on SuperSport Variety 3, SuperSport Maximo 2 and WWE Channel 128.