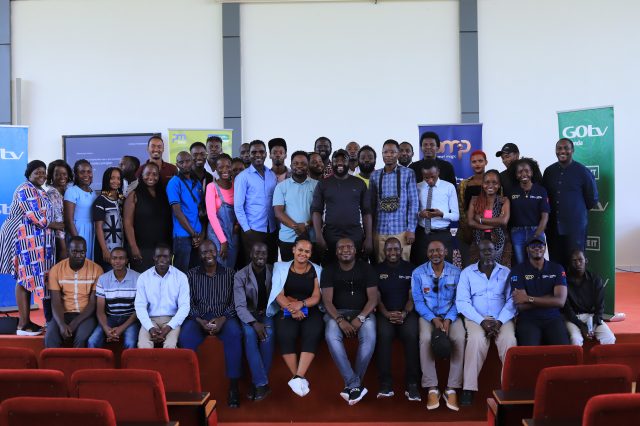 MultiChoice Uganda the home of great Pay TV entertainment has kicked-off the first of 3 training workshops as part of Pearl Magic Prime's 2nd-anniversary celebrations with a training for filmmakers on social media and personal branding.
Being a content creator can be very worthwhile, but also an isolating experience. With the growing need and interest in social media, content creators are advised to take keen interest in how they are perceived and portrayed online. Social media has since changed the way people communicate, in addition to influencing decision making.
Speaking at the opening ceremony, Rinaldi Jamugisa, PR and Communications Manager encouraged filmmakers to take advantage of the trainings as a way to grow their personal brands, share their stories and connect with their existing and potential audiences.
"We have designed our trainings to equip filmmakers with knowledge and skills to thrive in your current spaces as you focus on filmmaking and content creation for the screen. You are encouraged to make the most of all the training workshops that we have organized," he remarked
Jamugisa added that, "There is need for you filmmakers to be appreciated by those you create for including investors, viewers, content marketers, among others and thus you need to put yourself out there through social media and other communications platforms as well as showing up with the best version of yourself through an admirable and solid personal brand."
While delivering the training, Patricia Kigula, Marketing & EPG Coordinator, MultiChoice Uganda stressed that branding and creating an online presence are a pathway to being a successful filmmaker.
"You need to ensure that you are learning about everything from data privacy regulations, analytics, how the platforms work, cyber security issues, content types and formats, so that when anyone asks you how it all works, you'll be ready with answers," Kigula explained, adding that, "with this comes the need to be intentional about how you appear online through personal branding as this is what forms what your audience perceives of you"
In a 2022 Market performance report by Uganda Communications Commission, the country recorded a growth of devices connected to the internet with a 4 million devices increase from June 2021, to a 12% year-on-year growth, implying a increase in eyeballs that get to view content that digital communications platform users post thus a wider reach.
"It is paramount to leverage social media to control the narrative about yourself, others and your company as critical tools for your online success as a content creator. You need to be clear about who you are, what you stand for, what your target market expects, as well as how they should interact with your content," Kigula revealed.
In his remarks, Brian Mulondo, Local Content Marketing Manager, MultiChoice Uganda called upon filmmakers to embrace the spirit of collaboration as a way to provide an enabling environment for industry growth.
"I encourage you to work with each other on the different projects that you are involved in and support each other by passing on areas of specialty to those who will enable you to deliver quality works as opposed to trying to do everything yourself," adding that, "this will help your personal brand be identified with quality productions and delivery."
Content creators will have more opportunity to acquire knowledge as Pearl Magic Prime continues to celebrate its second anniversary with a workshop on
Two more workshops on Partners against Piracy slated to take place on 23rd Feb 2023 and a Content Acquisition workshop on 28th February 2023 that will be held online are open to all within the creative arts space including but not limited to Filmmakers, content creators, artistes, actors, among others.