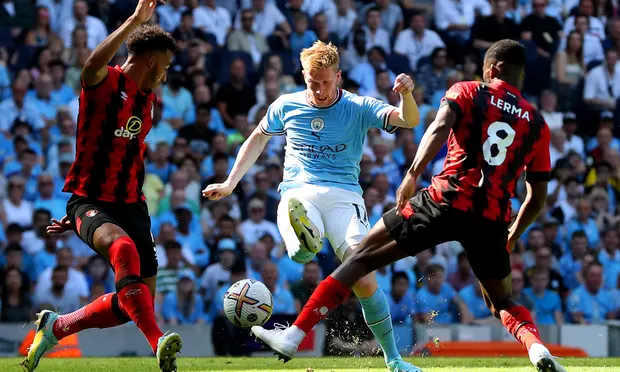 SuperSport viewers on DStv and GOtv can look forward to Round 25 action from the 2022-23 Premier League, with matches scheduled to run from Friday 24 to Sunday 26 February 2023.
DStv and GOtv is the only true home of football in Africa, offering a range and depth of action that no other rival can match – it's literally 'Unbeatable Football'! If you're going to spend your money on something, it may as well be on the best football in the world.
The pick of Premier League matches this weekend is the meeting of Tottenham Hotspur and Chelsea in a London derby on the afternoon of Sunday 26 February. While Spurs are fighting to finish in the top four, the Blues are looking to drag themselves up into a similar position after struggling to find consistency through the course of the season.
"It was always a case of managing in challenging circumstances, but I am not complaining. It will test my attributes and qualities, and that is something to be happy about," said Chelsea manager Graham Potter.
"Yeah of course [any coach would love to be in his position]. It is a fantastic football club and really exciting. You should never really compare yourself to somebody else, as you don't know their circumstances and context."
The round will be a shortened one, with Newcastle United v Brighton & Hove Albion and Manchester United v Brentford postponed due to the Magpies and Red Devils meeting in the Carabao Cup final on Sunday.
Friday sees the Premier League action get underway with Fulham hosting Wolverhampton Wanderers, before a busy Saturday is headlined by Arsenal heading to Leicester City and looking to keep themselves on track for the title.
"Now is a time to love the players more than the day before and the month before, because they fully deserve it. We will be next to them and prepare for Saturday," said Gunners boss Mikel Arteta.
Saturday also features champions Manchester City away to strugglers Bournemouth, while Crystal Palace will hope to claim the scalp of Liverpool when the teams meet in a night game at Selhurst Park.
"If we want a positive result we have to raise the quality of the game," said Eagles manager Patrick Vieira. "It's about how we play for 95 minutes as a team to compete and we have to do that to take something from it. [A strong mentality] should be a given for us as a football club and as a team. We have to concentrate, we have to be competitive, we have to have a really good game programme to challenge."
No rival can compete with SuperSport's coverage. Our viewers on DStv and GOtv enjoy an unrivalled selection of football from around the world!
Don't miss the best football action on SuperSport on DStv and GOtv. Visit www.dstv.com and www.gotvafrica.com to subscribe or upgrade, and join in on the excitement. And while you're on the move, you can stream matches on the DStv App.
Premier League broadcast details, 24-26 February 2023
All times CAT
Friday 24 February
22:00: Fulham v Wolverhampton Wanderers – LIVE on SuperSport Premier League and SuperSport Maximo 2
Saturday 25 February
17:00: Everton v Aston Villa – LIVE on SuperSport Variety 3 and SuperSport Maximo 1
17:00: Leeds United v Southampton – LIVE on SuperSport Football
17:00: Leicester City v Arsenal – LIVE on SuperSport Premier League, SuperSport Maximo 2, SuperSport Maximo 360 and SuperSport GOtv Football
17:00: West Ham United v Nottingham Forest – LIVE on SuperSport Variety 2 and SuperSport OTT6
19:30: Bournemouth v Manchester City – LIVE on SuperSport Premier League and SuperSport Maximo 2
21:45: Crystal Palace v Liverpool – LIVE on SuperSport Premier League, SuperSport Maximo 1 and SuperSport Maximo 2
Sunday 26 February
15:30: Tottenham Hotspur v Chelsea – LIVE on SuperSport Premier League, SuperSport Maximo 1 and SuperSport Maximo 2
Postponed due to Carabao Cup final on Sunday 26 February
– Newcastle United v Brighton & Hove Albion
– Manchester United v Brentford