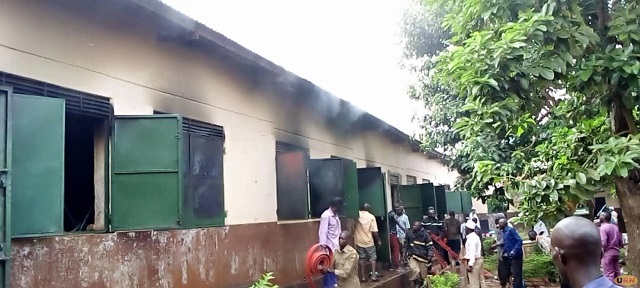 Dozens of pupils of Hoima town mosque nursery and primary school in Hoima city are in tears after losing their property to a fire that gutted their dormitory on Tuesday evening. The fire started at around 5pm when pupils were still attending lessons.
The fire reduced pupils' properties including books, mattresses, and clothes to ashes. Hussein Bruhan, one of the directors of Hoima town mosque nursery and primary school explains that they had a loud blast from the dormitory that was followed by huge flames.
He says that they immediately alerted the police fire and rescue team that rushed to put out the fire which also affected various shops along Old Tooro road that share the same premises with the school dormitory.
The affected shops include Kajez boutique, Kaba shoe center, Kalidez master fashions, and Julie's shoe center among others. John Tibenda, a neighbor to the school says he heard a loud blast at the school before huge flames started emerging from the dormitory. Donanto William Kasigazi, the Hoima City East division Deputy Resident City Commissioner says that no life was lost in the fire.
He says that preliminary investigations show that the fire could have started from a short circuit. Julius Hakiza, the Albertine Region police spokesperson says that investigations into the fire outbreak have commenced.
This is the third school fire registered this week after the one at Sky's High School Kibutika in Makindye Sabagabo and Kyamate Secondary School in Ntungamo district, which claimed the live of a senior one student and left three others with injuries.