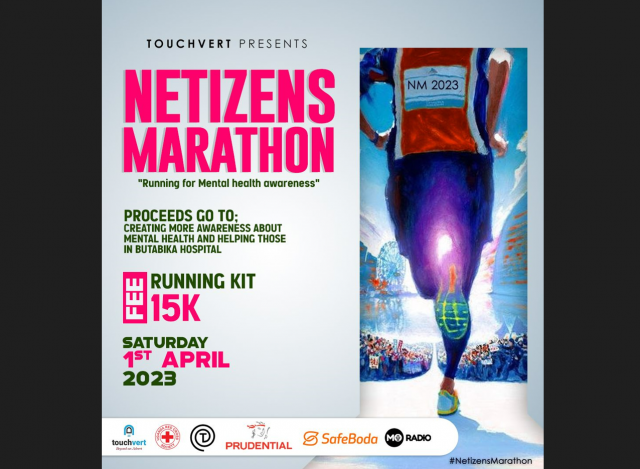 The Netizens Marathon that is set to create mental health awareness and to support mental health Patients at Butabika hospital will be happening on Saturday 1st April.
It is no secret that many people in low- and middle-income countries like Uganda face daily challenges, and their mental health has been additionally burdened by the COVID-19 Pandemic that brought about a high standard of living in an economy where many young people are unemployed.
Mental health is the pivot of human life. However, despite its importance, it is often the least prioritized amongst health conditions. In low- and medium-income countries like Uganda where disease, ignorance, and poverty are common, a demand for steadfast mental healthcare can seem a luxury (WHO, 2019).
More to that, Uganda is ranked among the top six countries in Africa in rates of depressive disorders (4.6%; Miller et al., 2020), while 2.9% live with anxiety disorders (WHO, 2017). About 5.1% of females and 3.6% of males are affected.
Organized by Touchvert, a digital media company, the Netizens Marathon therefore is geared towards tackling some of the issues regarding Mental Health. Very many people, especially perpetual users of the Internet have also not been left behind by the increase in mental health disorders hence 'Netizens'.
The Marathon that will be happening at Kamwokya Playgrounds will converge mental health experts, doctors, stakeholders, like-minded people and various users of the Internet with support from Prudential Insurance, Safe Boda, Tubayo, MORadio, and the Uganda Red Cross.
"The Netizens Marathon is one that will not only help us tackle Mental Health issues faced by many, but will also give us a chance to stay fit through running. I thank everyone that's coming on board to make this a success," said Paul Weboya, Founder Touchvert.
In the course of running and administering mental health services, we intend to have sideline activities like fundraising, Yoga, outdoor games, physical education and blood donation.
The chief runner at the marathon will be AIGP(Rtd) Asan Kasingye, the Ugandans on Twitter (UOT) President.
Access to the event premises will be absolutely FREE for everyone. However the running kit is being sold prior to the marathon at UGX 15,000 – Order yours here.