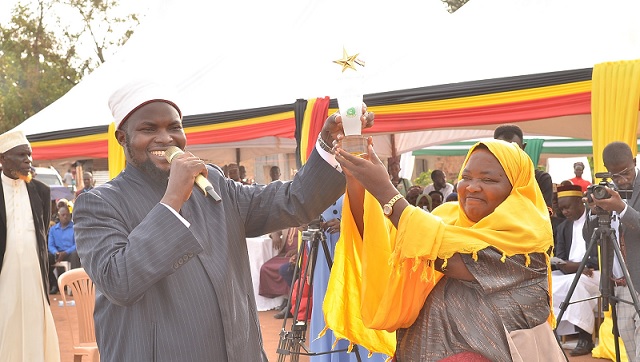 Prime Minister Robinah Nabbanja on Saturday tasked the Youth Central Member of Parliament Agnes Kirabo to account for iron sheets disbursed to her.
Kirabo appeared on the list of the leaders who benefited from the iron sheets. Others are First Deputy Prime Minister Rebecca Kadada, Karamoja Affairs Ministers Mary Goretti Kitutu, State Minister Agnes Nandutu, Finance Minister Matia Kasaija, and State Minister Amos Lugolobi among others.
On Saturday while attending the inauguration of Luwero District Kadhi Ramadhan Mulindwa in Luwero town council, Nabbanja explained that her office through Ministries of Luwero, Bunyoro, and Karamoja affairs among others has been giving away iron sheets for years.
Nabbanja said that the public outrage about the iron sheets was unnecessary because the majority of iron sheets that have been disbursed reached the intended beneficiaries save the few for Karamoja where the line Minister should answer where she diverted them too.
Nabbanja summoned Kirabo to account to the public 200 iron sheets which were released to her under the Ministry of Luwero Triangle in 2022.
Kirabo told the audience that she delivered the iron sheets to Kiberenge and Kyampologoma Primary Schools in Luwero district.
Nabbanja explained that Kitutu applied for 22,000 iron sheets and she delivered some to Karenga, Nakapiripirit, and Moroto districts and will need to answer queries on the whereabouts of others.
Nabbanja accounted for 6,500 iron sheets that reached Nakapiripirit, 1,000 iron sheets to Moroto, and 1,500 to Karenga districts.
Nabbanja asked the public not to crucify her for nothing insisting that the Minister should account for the whereabouts of other iron sheets and the law takes its course if she mismanaged it.
Ronald Ndawula the National Resistance Chairman for Luwero district said the iron sheet scandal has tainted the government and asked the accused Ministers to step aside till investigations are concluded.
Currently, the Parliament Committee on Presidential Affairs, Police and Inspector General of Government are all investigating the iron sheet bonanza to Ministers among other officials.
At the inauguration ceremony, Mufti Ramadhan Mubajje installed Sheikh Ramadhan Mulindwa as the district Kadhi for Luwero.
Nabbanja also handed over a vehicle donated to Kadhi Mulindwa by President Yoweri Museveni to help him execute his duties as well as a cash donation of 15 million shillings.