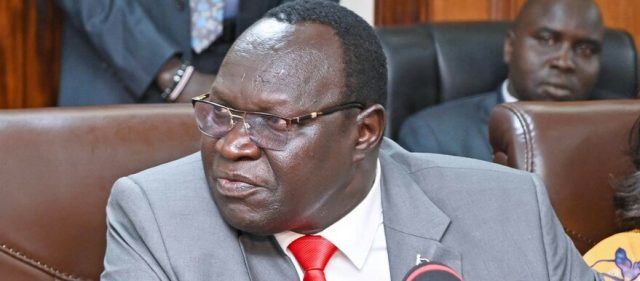 General Chol Thon Balok was sworn in Thursday as the new defense minister, a day after President Salva Kiir appointed him through a presidential decree.
The South Sudanese leader presided over the swearing-in ceremony at his office in Juba. The ceremony was administered by Chief Justice Chan Reech Madut.
In his remarks during the oath-taking, President Kiir, according to the presidential press unit, directed the new defense and veterans' affairs minister to reorganize the army and disarm the civil population in the capital Juba and other parts of the country.
The president also urged the minister to carry out his duties diligently in order to implement Chapter 2 of the security arrangements.
The presidential press unit also reported that the new minister reiterated his commitment to implement security arrangements in order to achieve durable peace in the country.
It added that the new defense minister promised to work jointly with the senior members to reorganize the army, especially addressing their welfare.
General Chol Thon, who hails from Upper Nile State, is a member of President Kiir's SPLM party.
On March 3, Kiir sacked defense minister Angelina Teny, a leading member of the opposition SPLM-IO led by First Vice President Riek Machar. Angelina is also Machar's wife.
The president also swapped the defense ministry set for Machar's party to his party and handed Machar the interior ministry, in a move that goes against the terms of the 2018 peace agreement.
According to the revitalized peace agreement, Machar's party is to select the country's defense minister and while Kiir appoints the interior minister.
A meeting this month aimed at resolving the rift between Kiir and Machar ended in a deadlock.
The stalemate is likely to slow down the implementation of the peace deal, which is meant to culminate in general elections in December 2024.