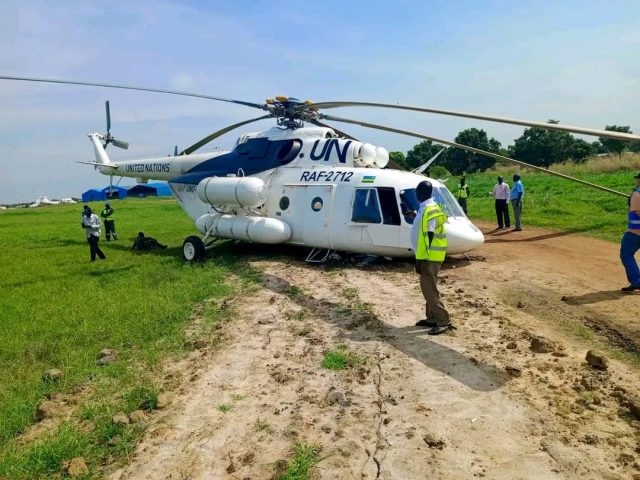 A helicopter operated by the United Nations Mission in South Sudan (UNMISS) crash-landed at Juba International Airport (JIA) on Wednesday morning shortly after take-off but none of the passengers and crew were injured according to an airport official.
Kur Kuol, the Director General of Juba International A, said on Wednesday that 12 passengers and 4 crew members aboard the UNMISS Rwanda Contingent plane all survived.
"The plane belongs to UNMISS' Rwanda contingent and it was having a mission today from Juba to Bor and from Bor to Ayod area," he explained. "Shortly after taking off, it just crash-landed. The plane is safe and is not damaged. The passengers who were on it are safe and there were no injuries or death."
"All the about 12 passengers and 4 crew members came out very clean and nothing happened to them," Kuol added.
According to the JIA director general, UNMISS and JIA have not yet established the cause of the crash but that the aircraft had recently undergone routine maintenance.
"The plane was on maintenance and what happened we do not know what happened during maintenance and only the UNMISS operation officer can tell you what happened," he said.
In July 2022, a plane skidded off the runway while attempting to take off from JIA.
In November 2021, a cargo plane crashed in the capital Juba killing all five crew members on board. This followed another deadly crash that killed 10 people in Jonglei State in March of the same year.
In 2020, the Civil Aviation Authority (CAA) withdrew the license of several Antonov aircraft and ordered their owners to fly them out of South Sudan.
The CAA also warned two AN-26 planes owned by the South Sudan Air Force flying with foreign civil registration to change to the military registration or risk being banned from operating in South Sudan.
The Russian-built Antonov AN-26s which were manufactured in 1969 were blacklisted by the Flights Safety Foundation in 2006.