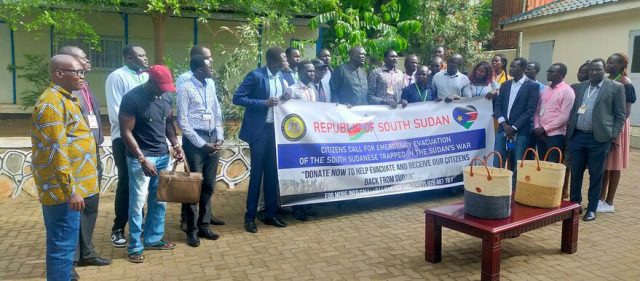 A group of concerned citizens in Juba, South Sudan have launched a fundraising campaign to aid the evacuation of South Sudanese nationals who are stranded in Khartoum, Sudan since the conflict that erupted there mid-this month.
Speaking during the launch on Sunday, Akoch Akuei Manim, a member of the organizing committee for the fundraising said they encourage South Sudanese to donate in cash or kind to facilitate the evacuation of the South Sudanese in Sudan.
"We give a platform for citizens of South Sudan who are very concerned about the suffering of our people in Khartoum to come forward and donate in kind to support those who are fleeing the war and those who are stranded calling us here in South Sudan for help," Akuei said.
For his part, the Acting Minister of Foreign Affairs and International Cooperation, Deng Dau Deng Malek, said the government has set up plans to evaluate the situation in Sudan.
"The government has a plan to evaluate the situation because we have over a million people and so the government has all the activities in the Ministry of Humanitarian Affairs and Disaster Management, the government itself, and the security sector, we are discussing it because we don't want to endanger the lives of the people," Dau said.
"When you announce plans to evacuate you must indicate centers for evacuation, you must say you go out from Khartoum go to Omdurman, go to this place flight will come but if you don't have such kind of definite resources to do that then we have to encourage our people who can leave to do so without risking their lives," he added.
According to the World Health Organization, more than 400 have died and over 3,000 people injured in the violent clashes between the Sudanese national army and the paramilitary Rapid Support Forces after, among other reasons, the latter refused to be integrated into the army.