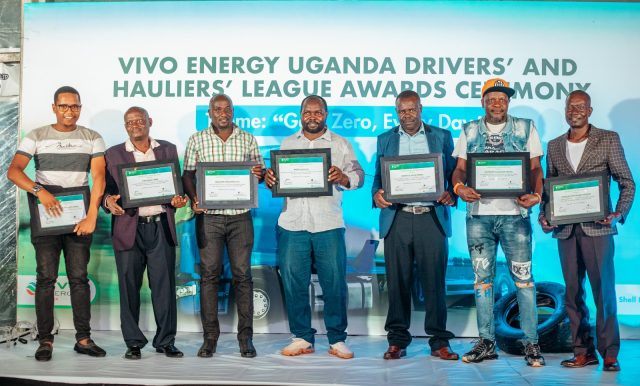 Vivo Energy Uganda, the distributor and marketer of Shell-branded fuels and lubricants in Uganda, has today awarded over 400 of its high performing truck drivers and six (06) transporter companies at its annual Drivers' and Haulier's League award ceremony held in Kampala, under the theme: "Goal Zero, Every day."
The Drivers' and Hauliers' League awards, now running for more than 20 years in Uganda, is a structured process for measuring the performance of the drivers' road safety behaviour and compliance. The drivers' performance is scored every month, with quarterly awards that culminate in an annual recognition. The drivers are categorised into classes A, B and C, depending on how they perform.
The award ceremony is an opportunity for Vivo Energy Uganda to recognise and motivate the drivers' commitment to health and safety on the road and is also a celebration of the safety record upheld by the transporter companies annually. Road transport accounts for most of the importation of fuel products. The drivers demonstrated outstanding professionalism as they delivered Shell fuels without any road transport incident in the year 2022.
According to the Vivo Energy Uganda Managing Director, Johan Grobbelaar, "The Drivers League programme seeks to ensure that our drivers observe high professional conduct and operate the highest road safety standards. In so doing, our products are safely delivered to the country and to our customers. This is in line with the objective of UN Decade of Action for Road Safety which is to prevent at least 50 percent of road traffic deaths and injuries by 2030."
"The League also aims to reinforce our target of Goal Zero, which is our continuous commitment to run our business without causing any harm to people, assets and the environment. We thank the government for the continuous support and our transport companies for adherence to the best road safety practices to ensure that we meet our Goal Zero ambition," he added.
The overall best driver, Mr. Moses Jellah, works with AOB Transport Company Limited. Jellah scored 100 percent for his hard work, operational excellence and adherence to the company's road transport safety protocols. He did not register any traffic violations or accidents during the year.
The other drivers awarded were Fred Kayanja from Uganda Transport Agencies Limited, Ssegawa Nathaniel Rogers Ssegawa (Fuels driver) and Joseph Ssenyonga (Lubricants driver) from Fred Sebyala Transport, Ronald Wanyonyi (Fuels driver) from SIBED Transport Company, Ibrahim Mohammed Ali from Dakawou Transporters Limited and Anthony Kamande Ngugi from Multiple Hauliers East Africa Limited. Over 400 other drivers were also recognized for exemplary performance and achieved the Class A category.
Speaking at the ceremony, representing the Guest of Honour, Hon. Gen. Edward Katumba Wamala the Minister of Works and Transport, Mr Karim Kibuuka – Principal vehicle Inspector hailed Vivo Energy Uganda for its role in championing road safety in its operations and the community through its campaigns such as 'Tweddeko' Every Life Matters. He urged all stakeholders in the transport industry to benchmark the best practices to avoid accidents and save lives.
"The high rate of road crashes in Uganda is mainly attributed to human error followed by the poor state of motor vehicles. The government has, through various initiatives, continued to advise all motorists to observe the basic road safety rules while on the road. Adherence to these basic tips shall enable us to reduce further the road crashes experienced currently," he advised.