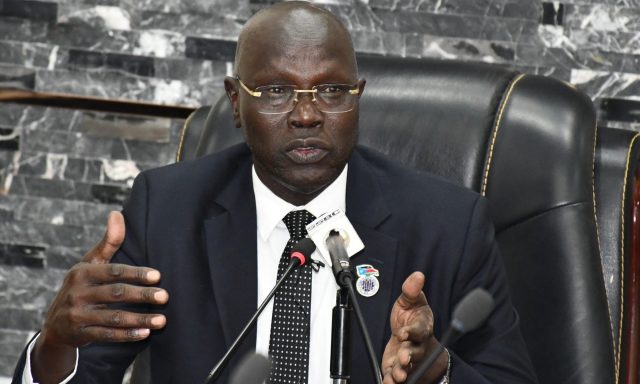 The South Sudan Employers' Federation has called for the sacking of the country's finance minister Dier Tong, adding pressure on the government to deal with record inflation.
The finance minister has come under fire as South Sudanese face inflation and the collapse of their currency – the South Sudanese Pound- in an economic hardship worsened by the ongoing conflict in neighbouring Sudan.
Parliament has already summoned the central bank governor and the minister of finance to appear next week before them to answer questions on the country's biting economic situation.
Ayii Duang Ayii, Chairperson of the South Sudan Employers' Federation, asked President Salva Kiir to sack finance minister Tier Tong Ngor in order to "restore hope in the financial sector".
This came after he received a petition from local traders in which they threatened to close their business premises to protest against the weakening of the country's currency, the pound.
The cost of most basic goods has doubled in the past few months in South Sudan, but incomes have not risen. On Thursday, prices around Juba stood at about SSP 1005 for USD 1.
"Finance minister is responsible for ways how to bring money and also improve the economy. Traders want to close their businesses, but if there is a new minister, they will not close their businesses because the new person would come up with new policies," Ayii said.
"If there are no new policies or new decisions, traders will try to hoard goods and the prices will continue to rise in the market. So we need new faces; we need a new finance minister, a new central bank governor and a new minister for electricity," Ayii said.
Ayii, who is a renowned businessman, blamed the National Ministry of Electricity for poor electricity supply and services to the businesses and residents of Juba.
"The cost of electricity is very high, but citizens have accepted to pay. But why is the electricity service intermittent? You pay money and then the power goes off, which is not good. Why should we buy something unavailable? The minister of electricity has failed; he should be removed," Ayii stressed.
"Also, the traders now want to close the market due to the high cost of living and unfavourable rate of the US dollar. If markets are closed, citizens can break into the market and loot goods. Either the minister of finance resigns or the president should sack him because his monetary policies are unclear to the public," Ayii said.