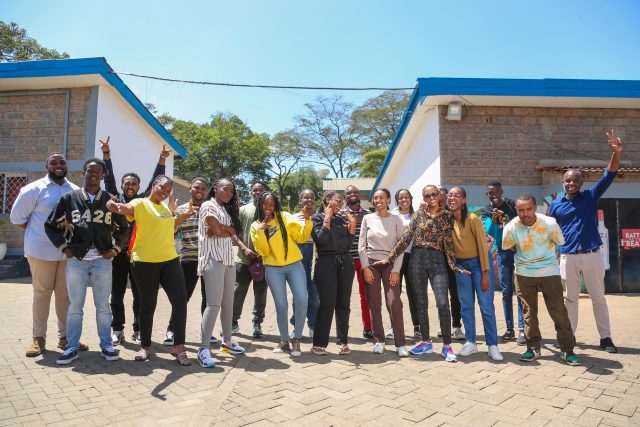 In a bid to continue supporting the local film industry, MultiChoice Uganda, the home of great Pay-TV entertainment has through the Group's flagship Corporate Social Value (CSV) programme, MultiChoice Talent Factory (MTF) announced a call for enrollment in short online courses.
The fully-funded introductory TV production short online courses will be conducted by MTF in conjunction with the prestigious SAE Institute in South Africa, a global leader in creative media education.
Filmmakers are urged to apply for the courses effective today. Successful candidates will be confirmed and informed by 23rd August 2023. Applications can be made via: https://sae.edu.za/multichoice-talent-factory/
Speaking while making the announcement, MultiChoice Uganda, Head of PR & Corporate Affairs, Rinaldi Jamugisa said that the well-thought-out programme will equip the filmmakers with first-class skills that are needed for them to start in and grow the local film industry to international standards and is designed to help students use their skills to enhance their talents and be more competitive in a fast, dynamic world where creativity will give them the competitive advantage.
"In response to multiple requests by filmmakers, enthusiast and students, we are partnering with SAE Institute to help provide a platform for these aspiring young professionals to learn the technical and cognitive capacity skills and abilities to effectively deliver the most on-demand skills in the industry, thereby empowering them socially and economically and most importantly – take leading roles in fostering the industry," Jamugisa explained.
According to UNESCO's 2021, The African Film Industry: Trends, Challenges and Opportunities for Growth report shows Africa's film and audio-visual industries have a potential to create more than 20 million jobs and contribute US $ 20 billion (UGX 72.5 tn) to the continent's combined GDP. However, these industries remain untapped and currently employs just five million people and accounts for US $5 billion (UGX 1.8 tn) in GDP across Africa.
Speaking about the initiative, MultiChoice Talent Factory Academy (EA) Director, Victoria Goro called upon filmmakers across Africa to take up the opportunity to invest time in their career growth. "This is another great opportunity for more Africans to further improve and enhance their knowledge of filmmaking and production," she said.
Goro revealed that, "the short courses on offer will train students in five instrumental elements in modern-day film such as; 3D Modelling and Animation, Film Production Management, Introduction to Cinematography, Introduction to Scriptwriting, and Audio Post-Production. These elements are pivotal to making it as a filmmaker on an international scale."
"In addition, an online orientation and demonstration of the class to familiarize the learners with their environment will be held on the 5th of September 2023 after which the learning managing system (Canvas) will be opened to the learners. The learners will then be given a period of 8 weeks to complete the courses before the online platform closes on 31st October 2023," Goro observed.
According to SAE, the short courses provide comprehensive upskilling designed to equip learners with the expertise needed to excel in the film industry. "We pride ourselves on providing in demand courses that educate and empower aspiring filmmakers who want to improve their film skills."
"We are excited to have partnered with MultiChoice Talent Factory to offer fully funded SAE Online Short Courses for aspiring filmmakers.
MultiChoice and SAE want to help learners improve their industry skills so that the African continent can compete against the world and become a market leader within the film industry.," a statement by the institute reads.
This new upskilling opportunity is in addition to the ongoing MTF film skills development program, which is intended to offer eligible applicants passionate about telling their stories a unique opportunity to improve their skills.
The MultiChoice Talent Factory Academy has seen a total of 20 Ugandans enrolled since it started in 2018 with each cohort admitting 4 every year. Some of the most notable graduates of the MTF academy include AMCVA winner Isiko Abubaker, award-winning producer Cissy Nalumansi, and Daisy Masemebe who won an 8-week film scholarship with the New York Film Academy at their New York campus in 2021 after her time at the academy.