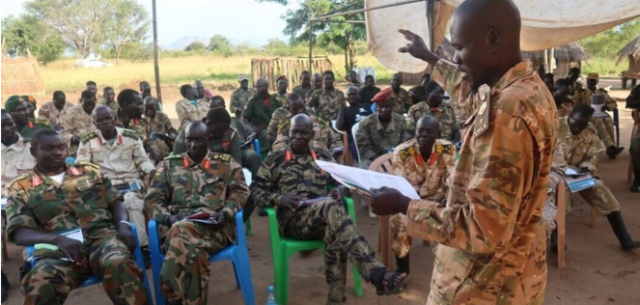 The South Sudan People's Defense Forces (SSPDF) has issued a directive to the Necessary Unified Forces who were passed out to report to training centers within seven days for verification and deployment.
SSPDF Spokesperson Maj. Gen. Lul Ruai toldSouth Sudanese local radio Radio Tamazuj on Tuesday that the deployment process would only commence after a comprehensive verification of the personnel.
"All soldiers of the unified forces in greater Upper Nile, greater Equatoria, and greater Bahr el Ghazal must report to training centers within 7 days so that we can begin their deployment," he said. "After they have reported to their training centers, a verification team will be sent to check before we commence with deployment."
According to Gen. Ruai, food and other items had already been delivered to the training centers in greater Equatoria, and the other regions will receive food in the next few days.
"Food items for greater Equatoria have been delivered and food items for Bahr el Ghazal are on the way and will arrive today or tomorrow," he said. "Meanwhile, we are preparing to deliver food items for the units in the greater Upper Nile region."
"The food for forces in Jonglei will be delivered by road, whereas those for Malakal and Bentiu will be delivered by boats," Gen. Ruai added.
He however issued a stern warning and said any soldier who fails to report for the verification exercise will not be deployed and will not be allowed to join phase two of training.
For his part, SPLA-IO Spokesperson Col. Lam Paul confirmed the verification exercise and underscored the importance of SPLA-IO soldiers reporting to cantonment centers with their weapons following a presidential directive.
"A verification team will go out and find out the standing parades and check the actual numbers. So all the soldiers have to go back to the centers where they were trained," he explained. "So, after the exercise, the soldiers will then be deployed. Their food is now being delivered to the various centers."
On the issue of SPLA-IO soldiers reporting with their firearms, Col. Lam clarified that the presidential order was explicit that all soldiers going to cantonment sites report with their guns excluding those going for the second phase of training.
"For the SPLA-IO, cantonment centers are akin to the barracks of the SSPDF. So, there will be 17 cantonment centers across the country where our forces will report before they move to training centers," he said. "So, anyone reporting to a cantonment center has to go with his weapon."
Col. Lam urged all personnel to adhere to the directive and report to the training centers promptly, emphasizing that this opportunity for deployment should not be missed.