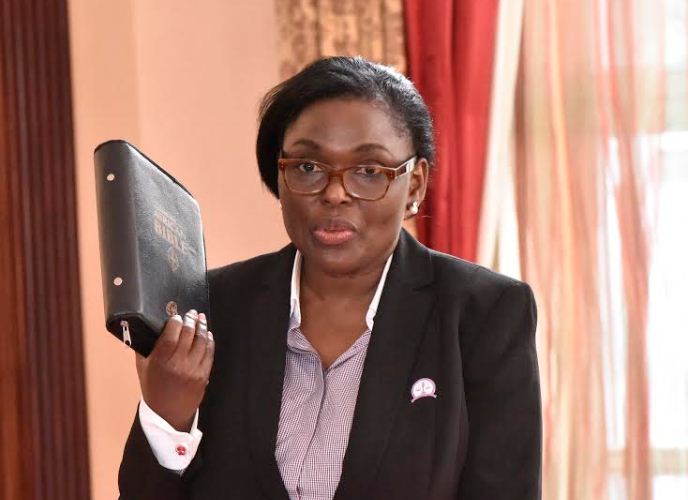 President Yoweri Museveni on Tuesday witnessed the swearing in of the Commission of Inquiry into land matters in Uganda. The ceremony was held at State House, Entebbe.
Justice Catherine Bamugemereire will Chair the Commission. Other members include Mrs. Mary Odupa Ochan, Owekitibwa Robert Sebunya, Mrs. Joyce Habasa, Dr Rose Nakayi, Hon Fred Ruhindi, Mr George Bagonza Tinkamanyire, Mrs Olive Kazzarwe Mukwaya (Commission Secretary), Mr Ebert Byenkya (lead Counsel) Dr Douglas Singiza (Assistant Secretary) and Mr. John Bosco Rujagaata (Assistant lead Counsel).
Some of the issues the commission will look into include: the law, processes and procedures by which land is administered and registered in Uganda, the role and effectiveness of the Uganda Land Commission (ULC) in administering public land and land fund, the management of wetlands and forest reserves, the role of traditional, cultural and religious institutions who own large tracts of land with occupants, assess the legal and policy framework on government land acquisition, the effectiveness of dispute resolution mechanisms available to persons involved in land disputes and any other matter connected with or incidental to land matters. The Commission will also make recommendations
On 8th December last year, in exercise of the powers conferred upon him, under the Commission of Inquiry Act, cap 166, President Museveni issued a Commission of Inquiry referred to as "The Commission of Inquiry into the Effectiveness of the Law and Processes of Land Acquisition, Land Administration, Land Management and Land Registration in Uganda.
The President said his decision to constitute the commission came from the rampant land evictions and several complaints that he had been receiving relating to land, especially from the wananchi.  
Comments
comments